Brazilian website Gemind has revealed screenshots claimed to show a desktop version for MAC OS and Windows of Microsoft's SkyDrive.
Currently Windows and Mac users can access Skydrive – Microsoft's cloud storage for files, photos, music, etc – through a browser and it's clunky compared to, say, the simple Dropbox icon for access to all your Dropbox cloud stuff.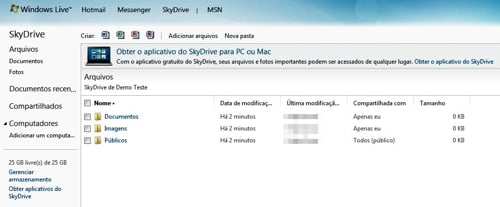 Gemind shows a screenshot (above), in Portuguese, of a SkyDrive client for a Windows or Mac desktop with a set of three folders in the pane. The site also showed screenshots showing pricing for extra SkyDrive storage.
SkyDrive offers 25GB of free storage whereas Dropbox offers less than a tenth of that at 2GB. You can upgrade to, say, Pro 590 and get 50GB for $99/year or $9.99/month. SkyDrive is much less than that, if the Gemind screenshot is to be believed, with SkyDrive +50 giving you an extra 50GB for $25/year. There are SkyDrive +20 and +100 plans as well. Read more...