Of the three major game consoles of the current generation, the Xbox 360 is the only one without its own web browser. It seems like a curious omission, especially considering Microsoft knows a thing or two about surfing the information superhighway. That may all change very soon: The Verge is reporting that Microsoft is not only poised to release a version of its Internet Explorer software on the Xbox 360, but the new surfing tool will come complete with Kinect motion and voice controls. Read more...
Google's Chrome took the crown as the world's most-used web browser last Sunday, March 18th. But as the world suited up to go back to work on Monday, Internet Explorer re-gained the lead.
So says online service StatCounter, although the service also urges us all to take its data with a grain of salt. That's because while it collects data about 15 billion page views per month from three million websites, it says its results "are subject to quality assurance testing and revision for 14 days from publication. Read more...
Apple has released an update to its Safari web browser, bringing the version to 5.1.4. The update addresses a variety of bugs and issues and claims to improve JavaScript performance.
Safari 5.1.4 contains improvements to performance, stability, compatibility, and security, including changes that:
Improve JavaScript performance
Improve responsiveness when typing into the search field after changing network configurations or with an intermittent network connection
Address an issue that could cause webpages to flash white when switching between Safari windows Read more...
Amazon's Kindle Fire is off the hook with one important group when it comes to privacy worries about Silk, the specially created Web browser for the new e-reader/tablet due out next month.
Representatives from the non-profit Electronic Frontier Foundation have talked with Amazon officials about the speedy, new cloud-based browser, focusing on what user information will be transmitted via the cloud and shared by the company.
"Our conversation with Amazon allayed many of our major concerns," said the EFF.
As msnbc.com's Wilson Rothman explained when Kindle Fire was announced, Silk "weds the tablet to Amazon's cloud network. The browser gathers user behavior in order to predict where you'll go next, and caching that Web page in advance. If you always jump from msnbc.com to the tech/sci page, it will start loading it on the back end, so that it's quicker to load for you." Read more...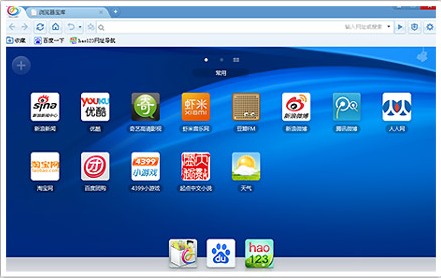 Chinese search giant Baidu has launched its own web browser, aping Google's Chrome with web applications and aspirations of becoming a desktop replacement.
The Baidu Browser only runs on Windows, but it does have its own application store for web apps (which run in a Webkit-based sandbox) and an extension framework very reminiscent of Chrome's. The browser also offers extensive customisation options for managing shortcuts, creating a screen layout more reminiscent of Apple's iPad than anything else. Read more...
Opera Software has embedded into its Web browser a beta set of tools, collectively called Dragonfly, that can help developers find errors in their complex Web pages, the company announced Monday.
"Dragonflies eat bugs, and that is exactly what we want [Dragonfly] to do for developers around the world," said David Storey, an Opera developer relationship manager, in a statement.
Dragonfly is not the first browser-based debugger. Mozilla, for example, offers Firebug, and Google's Chrome browser also features some built-in element inspection features as well. Dragonfly also offers the ability to debug Web pages on smartphones, televisions and other devices, by hooking them up to the developer's PC. Read more...
Late yesterday, I asked "Which web browser do you use?" -- not really planning a follow-up post. But given Betanews reader response, the informal -- and purely anecdotal -- poll warrants something more. Drum roll, please. And the most popular browser -- Chrome, Firefox, Internet Explorer, Opera, Safari or something else -- is: none of them. Betanews readers generally use more than one, which supports what I explained yesterday: NetApplications' monthly browser stats refer to usage share, not the stated market share.
That said, you generally prefer the newest browser(s) when available, and some of you generally use one lots more than others. Very few respondents cited need to use Internet Explorer for corporate compatibility reasons, suggesting Microsoft's efforts to move enterprises away from ActiveX has largely succeeded. In fact, only one respondent mentioned ActiveX at all, which further supports my supposition. Read more...