The U.S. is dangerously unprepared to face a full-scale cyber conflict launched by a peer adversary, a report by the military's Defense Science Board (DSB) warns.
The report, released in January, and first reported on by the Washington Post on Tuesday, is based on an 18-month study of the resilience of U.S. military systems to cyberattacks.
It reflects the perspective of 24-members of a DSB Task Forcem who interviewed more than four-dozen Department of Defense (DoD) officials, members of the U.S. intelligence community, policy makers and security practitioners from private industry, academia and national laboratories. Read more...
The U.S. Federal Aviation Administration is taking a new look at the use of portable electronics on airplanes, seeking public comments starting this week and forming a government-industry group to study when smartphones, tablets and other devices can be used safely.
In the U.S., airlines have to determine that interference from portable electronic devices (PEDs) doesn't put flight safety at risk before they authorize passengers to use them. As a result, passengers are asked to power down their laptops, tablets, phones, e-readers, game consoles and other devices during take-off and landing and while the plane is reaching its cruising altitude. The rules are designed to prevent interference with navigation and other systems from the devices themselves, whether communicating with a network or not. The use of cellular networks is banned throughout flights. Read more...
Rolling into Redmond, Oregon, as part of a Facebook-led tour of its new data center in nearby Prineville was like stepping into an episode of "Leave it to Beaver." Airport employees greeted people warmly and even TSA agents sent folks off with a cheery, "Have a good day!"
Facebook will tell you it's been an economic gift to this rural area of central Oregon. Some people who make their homes here are quick to agree.
"They are bringing jobs. We love Facebook," exclaimed Sandy Pupo, a 61-year-old resident who works part time in an airport gift shop.
But Prineville's enthusiasm could be due to it being such a new player in the Northwest data center game. About five hours away, across the border in Washington, some residents of another rural Northwestern U.S. town don't feel as happy about data centers. Read more...
The highly sophisticated Flame malware was jointly developed by the U.S. and Israeli governments in preparation for a cyber sabotage campaign to disrupt Iran's nuclear fuel enrichment efforts, according to a media report.
Citing unnamed Western officials with knowledge of the operation, the Washington Post reported on Tuesday that Flame's goal was to collect intelligence about Iran's computer networks that would facilitate future cyber attacks.
On June 1, The New York Times reported that Stuxnet, a sophisticated piece of malware that is believed to have caused the destruction of up to 1,000 gas centrifuges at Iran's Natanz uranium enrichment facility, was created by the U.S. and Israel governments as part of a joint operation code-named Olympic Games. Read more...
U.S. companies are locating more of their research and development operations overseas, and Asian countries are rapidly increasing investments in their own science and technology economies, the National Science Board (NSB) reported this week.
While the U.S. remains the global leader in science and technology R&D, that lead is narrowing, asserts NSB, the policymaking body for the National Science Foundation. In particular, 10 countries in Asia -- China, India, Indonesia, Japan, Malaysia, Philippines, Singapore, South Korea, Taiwan and Thailand -- are closing ranks on U.S. leadership in science and technology.
The U.S. share of global R&D expenditures dropped from 38% to 31% between 1999 and 2009, according to NSB's new report, Science and Engineering Indicators 2012. Meanwhile, global R&D share in the Asia region grew from 24% to 35% during the same time frame. Asia's rapid ascent has been driven largely by China, where R&D growth spiked 28% in 2008-2009, landing it in second place behind the U.S. Read more...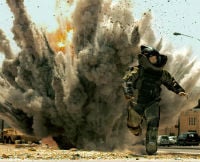 Last month it became clear that having developed their pay-up-or-else file-sharing settlement scheme in the United States, the makers of the Hurt Locker had moved north. In their new phase of targeting Canadian IP addresses for cash settlements, Voltage Pictures have included an interesting target in their latest batch – the Montreal Canadiens hockey team.
Since last year, Voltage Pictures, the makers of Hurt Locker, have been working with the Dunlap, Grubb and Weaver law firm (better known as the U.S. Copyright Group) to target Internet users who allegedly shared their Oscar-winning movie online.
Give us thousands of dollars in settlement, they say, and we won't ruin your life with an expensive lawsuit. Read more...
U.S. and Russian antivirus vendors took shots at each other as they quarreled over a recent report of a cyber campaign that allegedly infiltrated scores of Western governments, organizations and corporations.
The report, released earlier this month by McAfee, claimed that a half-decade-long hacker operation compromised more than 70 U.S. and foreign government agencies, defense contractors and international organizations to plant malware that in some cases hid on networks for years.
McAfee's report was picked up by numerous news outlets, and even caught the eye of Congress. On Aug. 10, Rep. Mary Bono Mack (R-Calif.), the chairman of the House subcommittee on commerce, manufacturing and trade, sent a letter (download PDF) to McAfee asking for more information on the intrusions. Read more...
U.S. authorities claimed one of their biggest victories against cyber crime as they shut down a ring they said used malicious software to take control of more than 2 million PCs around the world, and may have led to theft of more than $100 million.
A computer virus, dubbed Coreflood, infected more than 2 million PCs, enslaving them into a "botnet" that grabbed banking credentials and other sensitive data its masters used to steal funds via fraudulent banking and wire transactions, the U.S. Department of Justice said on Wednesday. Read more...