IBM announced Thursday that after five years of work, its researchers have been able to reduce from about one million to 12 the number of atoms required to create a bit of data.
The breakthrough may someday allow data storage hardware manufacturers to produce products with capacities that are orders of magnitude greater than today's hard disk and flash drives.
"Looking at this conservatively ... instead of 1TB on a device you'd have 100TB to 150TB. Instead of being able to store all your songs on a drive, you'd be able to have all your videos on the device," said Andreas Heinrich, IBM Research Staff Member and lead investigator on this project.
Today, storage devices use ferromagnetic materials where the spin of atoms are aligned or in the same direction.
The IBM researchers used an unconventional form of magnetism called antiferromagnetism, where atoms spin in opposite directions, allowing scientists to create an experimental atomic-scale magnet memory that is at least 100 times denser than today's hard disk drives and solid-state memory chips. Read more...
The French authority tasked with reducing file-sharing has sent out more than 650,000 first-strike warnings in its first 12 months of active operations. Hadopi say that in excess of 44,000 citizens are now on their second strike and 60 Internet subscribers are in the final and most dramatic stage of the controversial "three-strikes" regime.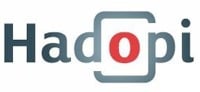 In place since January 2010, the French solution to unauthorized file-sharing has been met with controversy every step of the way.
The so-called "three strikes" or graduated response scheme sees Internet users formally warned when they are monitored sharing copyrighted material online without the rightholder's permission.
According to Hadopi, the authority setup to admínister the admonishments, everything is going to plan. Hadopi, it seems, have been very busy indeed. Read more...
Even though the U.S. White House Office of Management and Budget (OMB) has pushed government agencies to reduce the number of data centers they operate, a new survey has found that most agencies aren't tracking how close to capacity their data centers are or how much energy they're using.
The survey, of 157 U.S government IT decision-makers, found that only 25 percent are tracking the amount of storage capacity used at their data centers, and only 26 percent are tracking their data centers' energy consumption. Twenty-three percent of respondents said they can track the savings from data center consolidation, the survey said.
Just 41 percent of respondents said their agencies track the number of servers they operate at data centers, and just 32 percent track their annual storage spending, according to the survey, released this week by MeriTalk, an online network focused on the government IT community. Read more...