Dubbed "Verne" and sporting desktop artwork that echoes Jules Verne's 20,000 Leagues Under the Sea Fedora 16 is shaping up to be a worthwhile alternative to Ubuntu 11.10, particularly for those that aren't happy with Canonical's home-brewed Unity shell.
Among the big changes in Fedora 16 is GNOME 3.2, the latest version of the GNOME 3 shell Ubuntu ditched for Unity.
Fedora has always been a reasonably popular Linux distro, but now it is acting as a kind of flagship for the GNOME 3 desktop, since Ubuntu has gone its own way. Fedora releases are likely undergoing much closer scrutiny from the Linux community.
This first beta release is definitely rough around the edges, but if you want to check out the new GNOME 3.2, Fedora 16 is one of the best ways to do it. Indeed the main reason to install the new beta (something I suggest you do in VirtualBox) is to see how GNOME 3 is progressing.
Ubuntu 11.10, just released as its first beta differs only slightly in its looks from its 11.04 predecessor – a fact that will be welcome news to penguins still reeling from that earlier version's grand re-boot.
That earlier release shed GNOME 2.x, ignored GNOME 3.0 and set its brand-new Unity interface as the default.
Unfortunately, while the Unity desktop has potential, the initial release was rough enough around the edges that I suggested at the time waiting for a few more releases before embracing it.
While the first beta of 11.10, called Oneiric Ocelot, is also a little rough at the edges and features some curious design decisions, the version of Unity here is more stable and it is faster than the version that shipped with 11.04. In other words, Unity is making progress, albeit slower than many would like.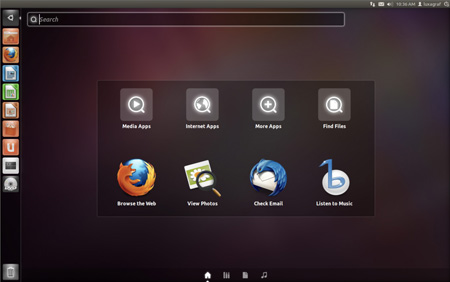 Dash changes: expanded capabilities with windows-style resizing
One of the areas that has seen a considerable makeover in the last six months is Unity's Dash. First and foremost, the Dash button has been moved from the top panel to the Unity launcher and its capabilities have been extended. Read more...