Microsoft yesterday clarified that Mac users will not be able to download and install a copy of Office for Mac 2011 as one of the five licenses allowed by the new Office 365 subscription plans.
The news may make the subscription deals, including Office 365 Home Premium, less attractive to consumers and businesses that have both Macs and Windows PCs.
While Office for Mac 2011 will integrate with Office 365 plans to some extent, users will not be given licenses to the OS X software.
"To clarify, those that have Office for Mac 2011 licenses and install the update, once it's available, will be able to use their Office for Mac 2011 license as one of the 5 devices in the Office Home Premium subscription," a Microsoft spokesperson said in an email reply to questions Tuesday.
Computerworld had posed two possible interpretations of earlier comments by Microsoft about how Mac users fit into the plans for the Office 365 subscription deals, which will give consumers five licenses to the new Office 2013 on Windows. Read more...
Microsoft is modifying its Office 365 sales agreement with partners to motivate them to push the product more aggressively, the company announced on Monday.
Microsoft wants to make Office 365 easier to sell and more profitable for its partners, said Kurt DelBene, president of the Microsoft Office Division, at the company's Worldwide Partner Conference in Toronto.
The changes have been prompted by feedback from partners. "[They] aren't shy, they like to tell us what's working and what we need to improve on," said DelBene, during a keynote speech that was webcast.
To that end, Microsoft will let partners bill their customers directly for Office 365, and bundle in a single invoice complementary services they provide in addition to the price of the software. This will be possible via a new initiative called the Office 365 Open Program. Read more...
Many companies that rely on OLSB (Office Live Small Business) for their email and website hosting are complaining that a required transition to Office 365 or to a third-party hosting provider is too complicated for them to carry out and that Microsoft could be doing more to help them out as OLSB's closure date fast approaches.
A cloud-hosted service, OLSB, will close on April 30, and customers have the option to move to Office 365 or to another hosting provider, but discussion forums and blogs are lit up with posts and comments from stressed-out users who are having a hard time carrying out the transition.
For these customers, the issue is critical because it involves their business' website and email communications.
Asked for comment, a Microsoft spokeswoman pointed out that the company announced that Office 365 would replace OLSB in October 2010, and that it is actively communicating with OLSB users via email and official discussion forums and websites, like this official "transition center." Read more...
Microsoft will offer U.S. government agencies the option to host their Office 365 suites in a dedicated "cloud community" reserved only for government customers, the company said on Thursday.
The new option, available today, is the latest effort targeting government agencies that sign up for Office 365, the cloud-based email and collaboration suite that includes online versions of Exchange, SharePoint, Office and other Microsoft applications.
Giving government agencies a variety of options is crucial because not all public sector customers have the same needs in terms of regulatory compliance, security, data privacy and product functionality, Microsoft said in a blog post. Read more...
Microsoft hasn't spilled the beans about Office 365 sales, but the little information we do have makes it sound to me as if the cloud suite isn't doing well at all.
In spite of a spate of minor announcements yesterday, Group Product Manager Andrew Kisslo announced on the Office 365 blog, "Just five months after its release, Office 365 is being adopted eight times faster than its predecessor."
Keep in mind that Office 365's predecessor is BPOS -- and BPOS didn't exactly get off to a dizzying start. Back in 2007 and 2008, Microsoft hosted Exchange and SharePoint in an ad hoc way. Microsoft didn't give the service a name until November 2008, when an amalgamation of Exchange and SharePoint was packaged and sold as Microsoft Online Services, a precursor to BPOS. Microsoft has never divulged how many BPOS customers it signed on in the five months after its launch, but the number of organizations using Microsoft-hosted servers in April 2009 certainly wasn't stunning. Read more...
Office 365 is now officially out, having been launched with great fanfare by Microsoft CEO Steve Ballmer in New York City this week, but customers of the suite's previous version, called BPOS (Business Productivity Online Suite), will have to wait at least two months to join the party.
To make sure that the migration process to Office 365 runs smoothly for all BPOS customers, Microsoft is taking a conservative approach and piloting the move with a hand-selected set of customers.
If all goes well, the company plans to begin "broad transitions" to Office 365 for BPOS customers at some point in September, the company told the IDG News Service. Read more...
Microsoft has launched its Office 365 suite of software-as-a-service (SaaS) applications as it bids to take on Google Apps, and on the face of it Microsoft's technology could have the edge over Google's.
Office 365 combines Office Web Apps - online versions of Excel, Outlook, PowerPoint and Word - with web-based versions of the Exchange email system, SharePoint collaboration platform and Lync unified communications tech, previously part of the Business Productivity Online Suite (BPOS).
Microsoft's big software-as-a-service push, Office 365, faces competition but not just from GoogleImage: Microsoft
Lync in particular is more comprehensive than Google's offering because it offers more advanced videoconferencing and web meetings. Office 365's Excel and SharePoint applications also appear more sophisticated than Google's versions. Read more...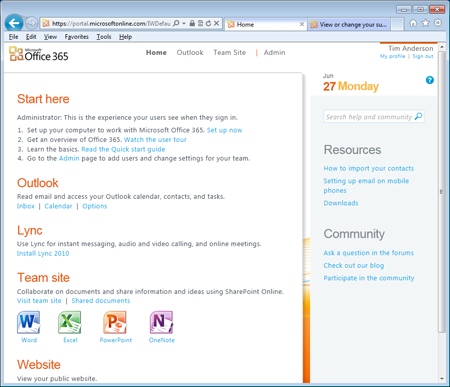 Office 365 has four cloud-hosted components: Exchange, SharePoint, Lync, and Office Web Apps, which you can use to access the other three from a browser. The addition of Dynamics CRM (Customer Relationship Management) is planned. Some editions include a subscription to Microsoft Office Professional Plus – a version of Microsoft's classic Office desktop clients – but whether or not it is included, the great majority of users will need Office installed locally.
Never a company to keep things simple, Microsoft has come up with a range of plans, grouped into educational, small business, and enterprise families. There is also a kiosk plan, for users without a dedicated computer. Prices range from $4.00/£2.60 for a kiosk user with Exchange and SharePoint, to $24.00/£15.75 for an enterprise user including a desktop Office license and Lync Plus for voice communications, though this last must be implemented on-premise.
The Office 365 portal is clean and well designed
Read more...