Use of the mobile Web is set to overtake fixed-line Internet in India by the end of the year, as the country's mobile revolution continues at full speed.
Statistics from statcounter – via Trak.in – show that a steady depreciation in the use of Internet from PCs is coinciding with continued grow of Web surfing from mobile devices. The data suggests that, with PC usage just a few percent points ahead, the lines will cross and access from mobile will overtake the PC before the end of the year.
As the graphic shows, India's mobile Web usage has grown strongly to account for just under 50 percent, as March-April, that's up from just 2 percent in January 2009 and 18 percent in January 2011. Read more...
Apple' iOS has over 425,000 apps, with over 15 billion downloaded, according to Apple. Google Android? It has 250,000-plus, but that number is growing at a faster pace than iOS. According to research by Adobe and Forrester, however, a rising number of developers may decide to forego the arms apps race entirely, preferring instead to optimize their mobile web presences.
What you build, it turns out, depends on what sort of business you run. Since a minority (38 per cent) of developers have an established mobile strategy, according to Forrester's survey results, the war between apps and the web is just beginning.
As Adobe's survey of 1,200 North American mobile users suggests, some activities lend themselves to the mobile web-browser model more readily than others. The majority of shoppers (66 per cent), for example, prefer to use their browser when buying goods and services on their mobile device. An even higher percentage (79 per cent) use the mobile web for product research prior to purchasing.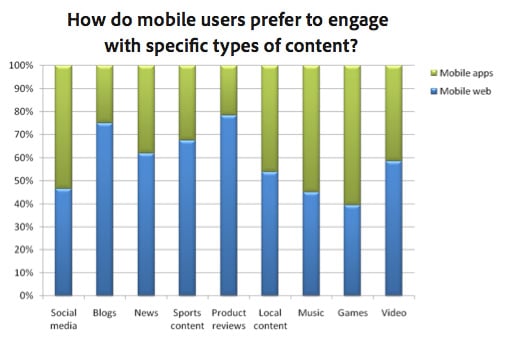 Games and social networking? Apps. Product research and blogs? Browsers. (source: Adobe)
The numbers flip-flop, however, when one considers social media or games. A slim majority of survey respondents (52 per cent) prefer a dedicated app to check Facebook and other social networking services, and 60 percent look to apps to fulfill their gaming needs. Read more...