The first release candidate of version 3.11 of the Linux kernel has arrived, and to commemorate the occasion, Linux creator Linus Torvalds has given the kernel a new codename and a new, Microsoft-inspired boot logo to match.
As of Sunday, Linux kernel 3.11 is officially named "Linux for Workgroups," borrowing the moniker Microsoft gave to Windows 3.11, way back in 1993.
To accompany the name change, the graphical logo that appears when some Linux systems boot has been updated so that Tux the Penguin is now holding a flag reminiscent of the old Windows logo.
The last time Linus changed the boot logo was in 2009, when he briefly swapped out Tux for a Tasmanian Devil mascot to raise awareness of efforts to fight a disease plaguing that animal's endangered population. Read more...
The Linux Foundation has released its annual report on the state of the software, and reports that Microsoft has made it into the Top 20 of companies that sponsor development of the Linux kernel – quite a change for the operating system Steve Ballmer used to dismiss as a cancer.
For contributions made to the kernel since version 2.6.36, Microsoft ranks 17th, with Redmond's contribution estimated at 1 per cent of the whole. The top contributing companies were Red Hat, Intel, and Novell. Samsung and Texas Instruments were also named as fast-growing contributors, reflecting an increase in interest in Linux for mobile and embedded systems. Read more...
The question of whether Secure Boot technology in UEFI firmware could exclude Linux from PCs running Windows 8 has taken a fresh twist.
Red Hat engineer Matthew Garrett, one of the first to flag up the Unified Extensible Firmware Interface issue, has blogged that Microsoft's rules for certified Windows 8 hardware do not make it easier to boot Linux despite what some have claimed.
Redmond's requirements mention the existence of a boot option for PCs that can fire up a digitally signed Linux kernel. This custom boot-mode would allow the user to modify the contents of the machine's Secure Boot signature database and the platform key (PK) that verifies kernels during system start-up. Read more...
Linux users working on laptops and other portable devices may soon have cause to rejoice thanks to a new kernel patch that finally promises to fix power regression problems associated with recent versions of the software.
Affecting Linux systems using version 2.6.38 or later of the Linux kernel, the problems have dramatically increased the amount of power consumed by Linux, resulting in far fewer hours of use per each battery charge.
Power consumption on an Intel Sandy Bridge notebook running Ubuntu Linux with kernel 3.1, for example, has increased by 76 percent since earlier this year due to Linux kernel regressions, according to a report this summer on Phoronix. Read more...
After several delays, Fedora 16 has been delivered. While hold-ups are a characteristic of the distro's release cycle, these latest ditherings have put the latest version of Fedora a few weeks behind its main competitor, Ubuntu.
Fortunately for Fedora fans this release is well worth the extended waiting time, offering an updated GNOME Shell, the Linux 3.0 kernel and plenty of the under-the-hood improvements that Fedora is known for.
Dubbed Verne and sporting desktop artwork reminiscent of Jules Verne's 20,000 Leagues Under the Sea, Fedora 16 continues the role Fedora took on earlier this year as the central showpiece for the GNOME 3.0 desktop.
While other major distros such as openSUSE - version 12.1 of which was delivered on Wednesday - have also released GNOME 3 builds, Fedora remains one of the most popular ways to stick a toe in the GNOME 3 waters: extra effort has gone into making Fedora's basic theme and the OS's overall look fit in with GNOME 3. As such perhaps the most notable part of Fedora 16 is the upgrade to GNOME 3.2.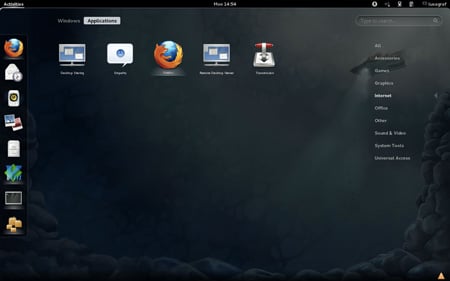 This marks the second incremental update for GNOME but for Fedora users who haven't stayed up to date, Fedora 16 will likely mean leapfrogging straight from GNOME 3 to 3.2.
The good news for those having a little trouble adjusting to GNOME 3, there will be no major changes coming in the next few GNOME releases. Instead, the GNOME team has been focusing on polishing and improving the foundations of GNOME 3 and the improvements show in Fedora 16. Read more...
Linux daddy Linus Torvalds has dropped GNOME 3 in favor of the Xfce graphical desktop interface, dubbing GNOME 3 an "unholy mess".
Last week, on Google+, various penguins discussed the possibility of creating an incarnation of the Linux 3.0 kernel that would mascarade as version 2.6.40 – a 3.0 version number, you see, causes problems with Fedora 15 – and at one point, Linus took the opportunity to have a go at the latest GNOME.
"While you are at it, could you also fork gnome, and support a gnome-2 environment?" he wrote. "I want my sane interfaces back. I have yet to meet anybody who likes the unholy mess that is gnome-3." Read more...
Bucking standard conventions in software versioning, Linus Torvalds has designated the new release of the Linux operating system kernel posted Friday as version 3.0, even while maintaining that the release is only a routine update.
"Sure, we have the usual two thirds driver changes, and a lot of random fixes, but the point is that 3.0 is just about renumbering ... No breakage, no special scary new features, nothing at all like that," Torvalds wrote on the Linux Kernel mailing list.
The new kernel was almost released July 19, but the last-minute discovery of a subtle bug, and testing of a patch for it, delayed the release. Read more...
An independent programmer has used JavaScript to build a PC emulator capable of running Linux inside a web browser.
French hacker Fabrice Bellard says his JavaScript PC Emulator can run the 2.6.20 Linux kernel inside Mozilla's Firefox 4 and Google's Chrome 11, two browsers designed to significantly advance JavaScript speeds. "I did it for fun, just because newer JavaScript engines are fast enough to do complicated things," Belllard writes. But he believes the emulator could be used to benchmark JavaScript engines. Read more...
Microsoft will patch a large number of Windows kernel-mode device driver vulnerabilities later today, the researcher who reported them said.
Today's security updates will also close a bug in Internet Explorer (IE) that hackers have started exploiting, Microsoft confirmed Monday.
At around 1 p.m. ET, Microsoft will issue 17 security bulletins that fix a record 64 vulnerabilities in Windows, IE, Office, and Visual Studio. Read more...
The Linux Foundation has formed a new working group to speed development within the Linux ecosystem that would make the operating system kernel more suitable for building high-availability (HA) systems, the Foundation announced Wednesday.
The High Availability Working Group will define a software stack for running Linux in clustered, mission-critical environments. It will also prioritize development work that still needs to be done, based on feedback from developers, vendors and customers. Read more...