HP is announcing widespread improvements to its security portfolio including security management software, services, IPS platform, and even printer security.
The company is announcing the addition of HP Correlation Optimized Retention and Retrieval Engine (CORR-Engine) to its security management platform called Enterprise Security Manager (ESM) 6.0c. This adds the intelligence to sort through traffic five times faster to find potential threats, prioritize them and reduce the impact of attacks.
ESM 6.0c can also store log data using 20 times less space than previous versions. The software can ID who is on the network, what they are doing and whether it represents a threat. The platform creates workflows for dealing with security incidents it identifies.
ESM 6.0c will be available in October. Read more...
Users dealing with social notification overload might get some relief from the latest version of NewsGator's Social Sites ESN (enterprise social networking) add-on for Microsoft SharePoint.
Social Sites 3.0, which will ship this week, features a redesigned user interface called Lookout that offers a variety of layout improvements and filtering tools to manage the flow of notifications in users' activity streams.
"The Lookout interface is designed to let users decide what's important to them, keep track of those things and not miss anything in their activity streams," said Brian Kellner, NewsGator's executive vice president of products. In addition, Social Sites 3.0 can be used with both SharePoint 2010 and the upcoming SharePoint 2013, which Microsoft is currently beta testing.
Among the Lookout improvements are multi-column views for segmenting notifications by category and the ability to re-arrange the layout by dragging and dropping elements. Social Sites also features a variety of filtering options to fine-tune the flow of notifications users see on their ESN interfaces, as well as automated recommendations that suggest content, groups, communities, and individuals they may be interested in subscribing to. Read more...
After several delays, Fedora 16 has been delivered. While hold-ups are a characteristic of the distro's release cycle, these latest ditherings have put the latest version of Fedora a few weeks behind its main competitor, Ubuntu.
Fortunately for Fedora fans this release is well worth the extended waiting time, offering an updated GNOME Shell, the Linux 3.0 kernel and plenty of the under-the-hood improvements that Fedora is known for.
Dubbed Verne and sporting desktop artwork reminiscent of Jules Verne's 20,000 Leagues Under the Sea, Fedora 16 continues the role Fedora took on earlier this year as the central showpiece for the GNOME 3.0 desktop.
While other major distros such as openSUSE - version 12.1 of which was delivered on Wednesday - have also released GNOME 3 builds, Fedora remains one of the most popular ways to stick a toe in the GNOME 3 waters: extra effort has gone into making Fedora's basic theme and the OS's overall look fit in with GNOME 3. As such perhaps the most notable part of Fedora 16 is the upgrade to GNOME 3.2.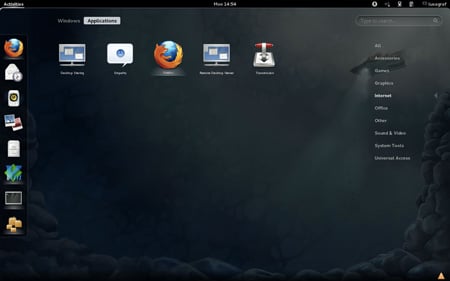 This marks the second incremental update for GNOME but for Fedora users who haven't stayed up to date, Fedora 16 will likely mean leapfrogging straight from GNOME 3 to 3.2.
The good news for those having a little trouble adjusting to GNOME 3, there will be no major changes coming in the next few GNOME releases. Instead, the GNOME team has been focusing on polishing and improving the foundations of GNOME 3 and the improvements show in Fedora 16. Read more...
The next major upgrade to the JavaScript platform, tentatively named ECMAScript 6, is set to feature modularization along with other improvements aimed at providing developers with more convenience and security.
Detailed this week in a presentation at the HTML5 Dev Conf event in San Francisco, the ECMAScript upgrade is being eyed for a 2013 release, said presenter David Herman, a senior researcher at Mozilla Research who has participated in the development of the specification at ECMA International. Focusing on JavaScript at an HTML5 technical conference makes perfect sense,  Herman explained. "[The two] are pretty much impossible to separate. HTML5 is really about the new APIs and capabilities of the Web platform and JavaScript is the language of the Web platform, so you can't use HTML5 without JavaScript and JavaScript is useless without the Web APIs, so the two need each other." Read more...
Since its unveiling in January 2005, the Mac Mini has been the cheapest Mac that Apple sells, making it the least expensive way to get hardware that natively runs OS X. In the past, this usually meant settling for older components -- especially compared to the pricier iMac and MacBook Pro lines. Although Apple has updated the Mini's look several times since its debut -- most recently in 2010 -- the internal hardware often received only minor improvements.
That changed in July, when the newest Mini received significant upgrades -- including some serious speed enhancements -- as well as an interesting subtraction or two, one of which might be a deal-breaker for some potential buyers. Read more...
Intel on Monday started shipping new low-power Atom chips built on the platform code-named Cedar Trail, with numerous improvements to boost graphics and application performance over their predecessor.
The two new Atom chips are targeted at entry-level desktops and all-in-one PCs for Internet surfing and basic multimedia and productivity applications, an Intel spokeswoman said. The new dual-core Atom chips run at clock speeds of up to 2.13GHz and are able play Blu-ray movies.
The Cedar Trail chips succeed the previous generation of Atom processors built on the platform code-named Pine Trail, which was criticized for poor video performance. Netbooks with the new Atom chips will ship in the fourth quarter, the spokeswoman said. Netbooks based on Cedar Trail chips were on display at this month's Intel Developer Forum. Read more...
The first major update to Apple's Mac operating system in some five years is nearly ready, and what has been removed is as significant as its improvements. Mac OS X 10.7, known informally as Lion, continues the trend of removing "legacy" components and technologies from OS X with a zeal that would leave Microsoft quivering in terror.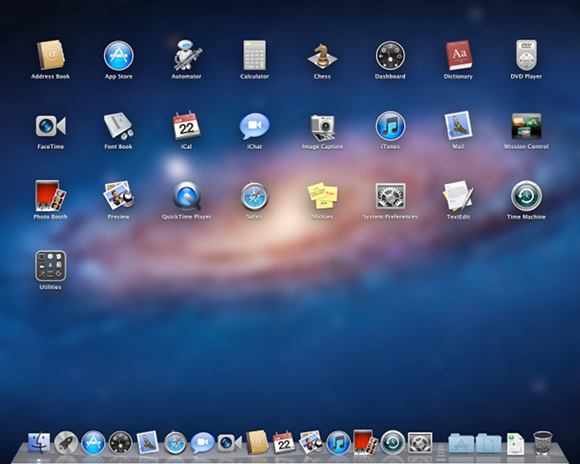 If you're a fondleslab addict and folders are too complicated, there's Launchpad (click to enlarge)
Mac OS X development has slowed markedly since the release of OS X 10.4 – "Tiger" – in 2004. Two years later, 10.5, "Leopard", was the most recent major update. 2008's "Snow Leopard", version 10.6, was as its name suggests a relatively minor release, which mainly just dropped support for PowerPC machines. This means that Lion is OS X's first big overhaul since 2006. Read more...