Cross-platform development is a big deal, and will continue to be so until a day comes when everyone uses the same platform. Android? HTML? WebKit? iOS? Windows?
Maybe one day, but for now the world is multi-platform, and unless you can afford to ignore all platforms but one, or to develop independent projects for each platform, some kind of cross-platform approach makes sense, especially in mobile.
Sometimes I hear it said that there are essentially two approaches to cross-platform mobile apps. You can either use an embedded browser control and write a web app wrapped as a native app, as in Adobe PhoneGap/Cordova or the similar approach taken by Sencha, or you can use a cross-platform tool that creates native apps, such as Xamarin Studio, Appcelerator Titanium, or Embarcardero FireMonkey. Read more...
Digia has acquired the Qt framework from Nokia, giving it full control over the application framework, and now plans to expand support to more platforms, it said on Thursday.
Digia, based in Finland, started taking over Qt in March 2011 when it purchased Nokia's Qt commercial licensing and services business. The latest deal means Digia is responsible for all Qt activities including product development, as well as the commercial and open source licensing, the company said.
Qt is a cross-platform application and user interface framework designed to let developers write and deploy applications across desktop, mobile and embedded operating systems without rewriting source code.
One of Digia's first priorities will be to allow Qt-based applications to run on Android, iOS and Microsoft's upcoming Windows 8 platform. The goal is to provide support for Android and iOS during the first half of 2013, a spokesman said via email. Read more...
Ruby on Rails creator David Heinemeier Hansson has released version 3.1 of his open-source Web application development framework, adding new features that should speed the rendering of Web pages for users.
Ruby on Rails 3.1 uses a new technology called Sprockets to speed JavaScript execution. Sprockets compiles all the functions that a Web application uses into a single file, which simplifies work for the developer and quickens the response time of the application.
Ruby on Rails also streamlines performance through another new feature, called HTTP Streaming. In short, HTTP Streaming allows the browser to start downloading a Web page's stylesheets and JavaScript even while the server is still generating other parts of the page. Read more...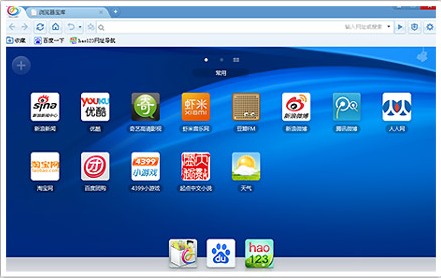 Chinese search giant Baidu has launched its own web browser, aping Google's Chrome with web applications and aspirations of becoming a desktop replacement.
The Baidu Browser only runs on Windows, but it does have its own application store for web apps (which run in a Webkit-based sandbox) and an extension framework very reminiscent of Chrome's. The browser also offers extensive customisation options for managing shortcuts, creating a screen layout more reminiscent of Apple's iPad than anything else. Read more...