Apple has requested a court in California to sanction Samsung Electronics in a patent infringement dispute by granting judgment in favor of Apple, after the South Korean company released to the press documents including exhibits that were not allowed as evidence in the suit.
The exhibits that Samsung distributed include images meant to establish that Samsung developed a phone with several elements of the iPhone's design ahead of the introduction of the iPhone in January, 2007. Also included were documents that sought to prove that Apple allegedly used a prototype inspired by Sony designs to arrive at the design of the iPhone.
In a filing to the U.S. District Court for the Northern District of California late Wednesday, Apple said the court should sanction Samsung by granting judgment in Apple's favor on its claim that Samsung infringes Apple's phone design patents, and by granting judgment that those patents are not invalid. Read more...
Apple today said it would start selling the new iPad in China starting Friday, July 20.
As analysts expected, the move came quickly after Apple settled a dispute with a Chinese company over the iPad name.
The tablet, which Apple launched in the U.S. in March, will be priced the same as the current iPad 2, which is the model now for sale in the People's Republic of China (PRC), or mainland China: $499 (US) for the base 16GB iPad with Wi-Fi only, up to $829 for the 64GB Wi-Fi/3G configuration.
Current prices for the iPad 2 run from 2,988 yuan to 5,488 yuan, which at Tuesday's exchange rate is $469 to $861.
As in other markets, Apple will continue to sell the iPad 2 for $399 (2,542 yuan at today's exchange rate) in China.
Chinese buyers will be able to purchase iPads through the Apple online store, some authorized resellers and by reservation at one of the country's five Apple retail stores. The latter can be made daily between 9 a.m. and noon local time, starting July 19, for next-day pick up. Read more...
Hewlett-Packard voiced concerns about Oracle attempting a hostile takeover after it hired former HP CEO Mark Hurd as co-president, Oracle's lead counsel told a judge on Monday.
HP sued Hurd shortly after he went to Oracle in September 2010, and the two companies quickly tried to settle the dispute. One of HP's core demands was a "standstill" agreement blocking takeover bids by Oracle for a period of time, said Dorian Daley, Oracle's senior vice president, general counsel and secretary, a key player in the negotiations with HP. But Daley dismissed HP's worries.
"I said, 'Are you kidding me?'" Daley said during questioning by Oracle in front of Judge James Kleinberg in Santa Clara County Superior Court in San Jose, California. "It was a very surprising ask, from my perspective," because HP is three times as big as Oracle, Daley said. Read more...
iPotato, isock, icouch, istove, i-you-name-it. An Internet search for "i'' words from A to Z will turn up just about any combination you might think up, from all over the world, only a handful of them related to Apple Inc.
Given its penchant for "iproducts," Apple's current troubles in China over the iPad trademark are not its first, and are unlikely to be its last. China's importance as a major consumer market is bringing fresh headaches for companies, and even celebrities, seeking to protect and claim brand names. That's apart from the usual problems with piracy and other infringements.
Financially troubled Proview Electronics Co., a computer monitor and LED light maker, says it registered the iPad trademark in China and elsewhere more than a decade ago and wants Apple to stop selling or making the popular tablet computers under that name. Apple says Proview sold it worldwide rights to the iPad trademark in 2009, though in China the registration was never transferred. Read more...
Without any explanation Google has suspended the FrostWire file-sharing application from the Android market. The timing of the removal is both remarkable and unfortunate. Google's decision follows the news that FrostWire had settled its dispute with the Federal Trade Commission (FTC) over privacy concerns.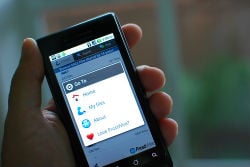 With more than a million installs FrostWire is one of the most popular file-sharing applications on the Android platform. But despite this success Google has decided to pull the app from the Android market place.
FrostWire's Angel Leon tells TorrentFreak that his company was not informed why FrostWire was suspended, but the first thought is that it has something to do with the recent settlement his company reached with the FTC.
Just before the weekend several news outlets reported that FrostWire and the FTC had settled their court case over privacy concerns. The government agency, which aims to protect the rights of consumers, alleged that FrostWire was disregarding users' privacy by sharing files by default. Read more...
The judge overseeing the dispute between Oracle and Google "strongly recommends" that Oracle CEO Larry Ellison and Google CEO Larry Page be ordered to attend mediation.
That means the judge wasn't happy with Oracle's suggestion that it would send its president, Safra Catz, or with Google's plan to send Andy Rubin, head of its mobile operation, to a court mediation session.
Judge William Alsup's recommendation, issued Thursday morning, follows Oracle's protest of Google's Rubin proposal. Read more...