New Windows PCs have always been the main attraction at Computex, the annual trade show in Taipei. But notable on the show floor this year is the growing presence of Google's Android OS, which is creeping into more and more tablets, televisions, set-top boxes and even PCs.
There's no big company promoting Android here -- Google doesn't attend, and there are no keynotes or press conferences dedicated to it -- so its prevalence can be easily missed. But walking the show floor shows that vendors are increasingly adopting the open-source OS for a wide variety of products, including digital video recorders, media players and USB sticks that turn TVs into connected Android computers. Read more...
Richard Stallman, founder of the Free Software Foundation, was distressed to find his personal belongings had been liberally distributed sans GPL - his prized laptop, wallet and passport were nicked at a conference in Argentina.
The snatch happened as fans of the Emacs author shouted over each other in an attempt to talk to him after he gave a talk at the University of Buenos Aires on Friday, reports an eyewitness and various Spanish-speaking bloggers.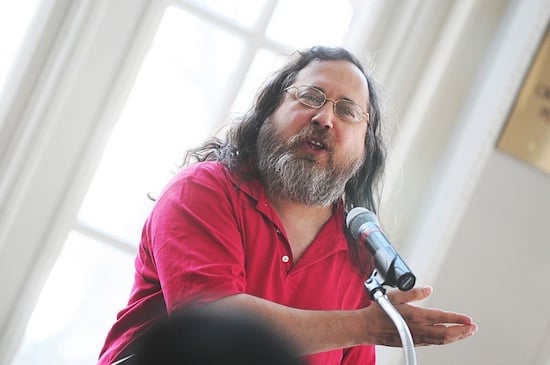 The thief, who had presumably sat through the lecture, was looking for more than a FSF-themed fridge magnet - and instead made off with Stallman's bag while the bearded GNU Public Licence (GPL) mastermind was handing out stickers, chatting and flogging merchandise.
The bag taken also contained the GCC granddaddy's medicine and money. An audience member claimed that a tearful RMS was clearly cheesed off: Read more...
Last August the Cloud Security Alliance (CSA) announced at the Black Hat security conference in Las Vegas a registry that it hoped would serve as a place for prospective cloud users to go to easily inspect and compare cloud vendors' security controls. But to date, only three companies have submitted their cloud security data, making the registry of limited use.
The Security, Trust and Assurance Registry (STAR) is designed to index the security features of cloud providers using a 170-point questionnaire that end users are then able to peruse. Soon after the CSA announced STAR, big names such as Google, Intel, McAfee, Verizon, and Microsoft all agreed to take part. So far though, Microsoft is the only one of that group to have followed through. Read more...
Ross Levinsohn, Yahoo's executive vice president for the Americas, on Monday downplayed the notion that the recent firing of CEO Carol Bartz has the company in an upheaval.
He made his remarks even as news emerged that Yahoo's chief technology officer, Raymie Stata, has just been replaced.
"Honestly, it's fine," Levinsohn said when asked how things are at Yahoo in the wake of Bartz's departure, during an appearance at the Web 2.0 Summit, where he was interviewed on stage by conference co-chairman John Battelle.
"If you've done jobs like this over the years, you sort of get used to it," he said, referring to shakeups at the executive level.
Levinsohn declined to comment about rumors that Yahoo and AOL might merge, and remained mum when asked about the process to find a new CEO. Read more...
Oracle CEO Larry Ellison on Wednesday unveiled a public cloud service that will run its Fusion Applications and others, and while doing so delivered a withering broadside against competitors, with his harshest words for Salesforce.com.
"Our cloud's a little bit different. It's both platform as a service and applications as a service," he said during a keynote address at the OpenWorld conference in San Francisco, which was webcast. "The key part is that our cloud is based on industry standards and supports full interoperability with other clouds. Just because you go to the cloud doesn't mean you forget everything about information technology from the past 20 years."
In contrast, Salesforce.com's Force.com platform is the "roach motel" of cloud services, amounting to "the ultimate vendor lock-in" due to its use of custom programming languages like APEX. In contrast, the Oracle Public Cloud uses Java, SQL, XML and other standards, Ellison said.
"You can check in but you can't check out" of Salesforce.com, Ellison said to laughter from the OpenWorld crowd. "It's like an airplane, you fly into the cloud and you never get out. It's not a good thing." Read more...
Miramax CEO Mike Lang and Netflix chief content officer Ted Sarandos gave a keynote talk at the MIPCOM conference. The two discussed the challenges they face in the continuously changing digital world. Both agreed that piracy is not much of an issue as long as you give consumers what they want. Digital monopolies, such as Apple's dominance in the music industry, are a far bigger threat.
If we believe the words of the MPAA and RIAA, piracy is the root of all evil resulting in billions of dollars in losses every year.
However, not all of the big players in the entertainment business subscribe to this theory. During the MIPCOM conference where movie and TV moguls gather, Miramax CEO Mike Lang and Netflix chief content officer Ted Sarandos touched on the subject of piracy. Both appeared to have a rather positive stance towards the issue.
Lang, whose company today debuts the Blu-Ray version of the cult classic Pulp Fiction, emphasized that people don't necessarily want to pirate, as long as they get what they want. "Innovate or die," should be the motive of entertainment industry companies, where it's key to listen to customers. Read more...
Internet calling company Skype said Sunday that it has entered into a definitive agreement to acquire GroupMe, a startup that offers a free group text messaging and conference call service on mobile phones.
Skype did not disclose how much it is paying for GroupMe in New York.
Set up in 2010, GroupMe offers its application on Apple's iPhone, Research In Motion's BlackBerry, and phones running the Android operating system. It also launched in July a version of its application for Microsoft's Windows Phone 7. A short message service (SMS) version for users without smartphones is also available in the U.S. Read more...
Citrix's annual Synergy conference is opening with a bang this week, with Citrix previewing overhauls to nearly every component of its virtual desktop product lines, reaching from the data center to the iPad.
Citrix's goal is to make all data and applications available to users on any device, without threatening IT security. The PC era, which replaced the mainframe era, is now being replaced by the cloud era, and each user will have a "personal cloud," said Wes Wasson, Citrix senior vice president of marketing.
"A personal cloud is something that is much bigger than just a Windows desktop," Wasson said. "It's the way people want to work, from any location, at any time, on any device, with everything they need to be successful." Read more...