The roots of Microsoft's success in using a clone of Gary Kildall's CP/M operating system are well-known and supported by a court ruling five years ago. But that hasn't stopped a software consultant from making claims that could smear Kildall and the late computer pioneer's legacy.
In an astonishing piece published by the IEEE's reputable publication Spectrum, a software consultant called Bob Zeidman claimed to have established "beyond doubt" that Microsoft's MS-DOS was not a derivative work of CP/M.
However Zeidman contrives to ignore the incontrovertible evidence that MS-DOS was derived from CP/M, and instead establishes a straw man. Zeidman, who pictures himself in a deerstalker hat, asserts that he can refute the allegation that "Microsoft stole the CP/M source code" - a claim that has never been made, let alone contested.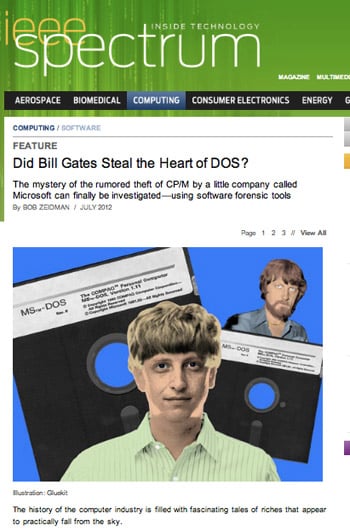 Zeidman turns out to be a consultant who developed a tool called CodeSafe, which (like Unix's grep and diff) finds matches in source code files and is plugged several times in the Spectrum piece.
Having used CodeSafe on the source code for CP/M and an early instance of MS-DOS, and found no significant matches, Zeidman declares the job done.
Miscellaneous slurs on Kildall's character, and the origins of his work, are added for good measure.
A quick recap of history
Gary Kildall, a former Intel engineer, created a low-cost operating system that became the standard for personal computers. As such, he's recognised as an innovator, for both the idea and the "business model" were popularised by Kildall and his company, Digital Research Inc. Read more...
In January 2002, Microsoft's Chairman Bill Gates kicked off the software maker's Trustworthy Computing Initiative with a companywide memo, telling employees that "there are many changes Microsoft needs to make as a company to ensure and keep our customers' trust at every level -- from the way we develop software, to our support efforts, to our operational and business practices."
Security problems continue to plague users and corporate customers in the software industry as a whole, but Microsoft has made great strides and set the standard in many aspects of how software should be designed, developed, secured, and supported.
Microsoft did not take the first steps on this road willingly; the software giant was pushed and prodded by hackers, security researchers, and virus writers. In 2001 the double blow of the Code Red worm and Nimda convinced Microsoft that efforts to secure its products were not working. Read more...
Analysis Sunday marks the tenth anniversary of Bill Gates' Trustworthy computing memo, which made designing security into applications from the ground up a key priority at Microsoft for the first time.
The directive to make security a number one priority followed a period when Microsoft hack taken a sustained shellacking over the instability and insecurity of its software, especially Internet Explorer and Outlook,following the rampage of high-profile malware outbreaks such as the Love Bug, Melissa and Nimda.
The memo came after Microsoft had spent years fighting the Department of Justice's antitrust suit that centred of its Windows monopoly, in particular the bundling of IE with Windows, and two years after Redmond had begun to embrace web services with the launch of .Net.
Apple Macs were not the threat to Microsoft's desktop monopoly that they now pose but the perception of insecurity was a problem for Microsoft's ammunitions to push its servers and associated applications into the data centre, as well as its fight against Linux as a web server platform. Read more...
Paul Allen's account of setting up Microsoft with his schoolmate Bill Gates is a riveting read
They say you can never be too thin, or too rich. After reading Paul Allen's memoir, I'm not so sure – especially about the rich bit. After founding Microsoft in 1975 with his friend and schoolmate Bill Gates,
Allen spent eight frenzied years building it into the corporate colossus that it is today. But then two things happened: he became ill with Hodgkin's lymphoma; and he decided that life was too short to endure the perpetual conflict that comes with working with Bill Gates. And so he quit in 1983 (having rebuffed Gates's offer to buy his Microsoft stock at a knockdown price), held on to his shares and has spent the rest of his life with his money (his net worth was $1bn in 1990 and was 13 times that in 1996). Read more...