Apple and Samsung's tit-for-tat patent posturing will finally come to a head in the US today, as jury selection starts on a trial that could kill a massive audience for Samsung stuff, and result in a win (or loss) of billions of dollars for either side.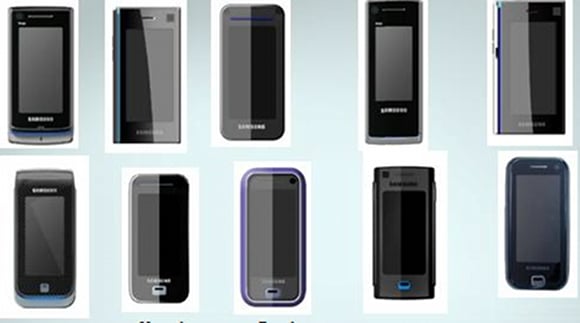 The last lines of the battle were drawn over the weekend as Judge Lucy Koh overruled Samsung's objections to opening Apple slides featuring images of Steve Jobs.
The Korean firm said that the "gratuitous images have no evidentiary value and have been asserted in order to turn the trial into a popularity contest", but the judge didn't agree. She said that all five of the slides with the Jobsian visage would be allowed because they were relevant to the iPhone or iPad design patents.
The rest of Samsung's slide objections and Apple's oppositions to Samsung's slides were given a more or less even mix of winners and losers and there's no more time for any dickering before the trial starts today. Read more...
Fondleslab not getting enough love? Google has unveiled a new way to tickle your favorite shiny object, in the form of handwriting recognition for its search homepage.
With the new Handwrite feature enabled, punters who visit Google.com with their mobiles can draw with their fingers anywhere on their device screens and have their writing converted to text in the search box, the Chocolate Factory announced on Thursday.
The new feature works only on the mobile version of Google.com, and then only for handsets running Android 2.3 or later, tablets running Android 4.0 or later, and Apple devices running iOS 5 and up. Read more...
Are you just scraping by coding in Ruby? Are you not prepared to pull infinite all-nighters? Are you less than amazingly fast?
If you answered yes to any or all of the above, worry not: Melbourne, Australia, company Flippa has advertised for "Mediocre Ruby Devs".
The ad is not entirely serious, as Flippa does want good developers. But the company finds it hard to hire Ruby experts in the busy Melbourne market and decided honesty would be the best policy.
"Our problem is not having too many applicants," says Flippa's General Manager Dave Slutzkin. "It's having too few." That's why the company's job ad explains: Read more...
The Olympic Games in London have sparked interest from fraudsters, with a raft of sites supposedly offering live video streams of events, according to security vendor Trend Micro.
Trend Micro called out on Sunday more than a dozen sites that it marked as questionable, with some sites having a dual-edge scam by purporting to offer tickets as well. One of the websites offered online viewing packages for $29.95 and $49.95, payable with credit cards and PayPal.
The International Olympic Committee (IOC) grants rights to broadcasters for game coverages. For this Olympics, the IOC has granted rights to 33 organizations worldwide, which will broadcast in 200 countries, according to data published by the organization. Read more...
Social network Google+, which turned a year old at the end of June, has seen its user base take a dramatic jump in the past six to seven months, according to comScore, an Internet traffic monitor.
According to comScore, total unique visitors to Google+ in the U.S. went from 15.2 million in November 2011 to 27.7 million in June of this year. That's a jump of 82%.
Worldwide, Google+ visitors jumped from 66.7 million to 110.7 million in the same time period, marking a 66% increase, comScore reported.
"That's impressive," said Zeus Kerravala, an analyst with ZK Research. "I guess there is room for an alternative social networking vendor." Read more...
Increased talk of a September launch of the next iPhone, as well as a new, smaller iPad -- if accurate -- would make it easier for Apple to erase the bad taste of the second quarter and beat its own lowered expectations this quarter, a Wall Street analyst said today.
Brian White, of Topeka Capital Markets, said Apple would be smart to ship the new smartphone and tablet in September -- part of the third calendar quarter -- rather than duplicate its 2011 timetable, when it launched the iPhone 4S in early October, or the fourth quarter.
"A September launch for the iPhone 5 would be significant for the stock price, especially given the recent concerns around the June quarter weakness in the iPhone and a weak September quarter outlook," said White in a Monday note to clients. Read more...
NASA could land humans on the moon and put exploratory rovers on Mars, but in the last three years, the agency just couldn't find a way to build an internal social network that would encourage its employees to collaborate.
Initially launched in early 2009, "SpaceBook" was supposed to be a place where NASA workers could go online anytime to get feedback, learn from others' experiences, collaborate on projects and get to know each other better. But NASA ultimately squashed the effort this June, taking it offline for good.
The problem, says Kevin Jones, a consulting social and organizational strategist with NASA's Marshall and Goddard Spaceflight Centers, was that no one sufficiently explained to users what they could do with SpaceBook to move their collaboration forward. So it languished when users didn't adopt it -- even it was relaunched it with an updated user interface.
That kind of crash-and-burn experience happens in enterprise IT when plans are established without understanding what users want or need. But it doesn't have to be that way for your organization, according to companies that have made internal social networks an integral, thriving part of their employee communications streams. What it takes to make a successful internal social network, they say, is strategic planning, careful follow-through and a willingness to change direction as your users show you how they want to use the tools you're giving them.
We'll share these companies' best tips for getting employees on board with a private social network. But first we'll explore some of the benefits internal social networking can bring.
How organizations are using social networks
Why invest in a company social network in the first place? That's a familiar question for Jonathan Yarmis, principal analyst at The Yarmis Group, which follows social, mobile and cloud technologies.
"Clients ask how can they get value from this and why should they spend money on it when they're not convinced that there is ROI," he says. "But I think it's profoundly important. It allows people to do things with information that they can't do with email. During the course of the day you can ask, 'Who do I know that knows what I need to know?' You can only do this on a social networking platform."
The companies we spoke to have found that their internal social networks provide multiple benefits, including giving employees a stronger voice, helping them pool and share information, and strengthening company culture.
Giving employees a voice
At San Francisco-based Salesforce.com, the social media tsunami known as Facebook got company executives very interested in how such a phenomenon would eventually affect enterprises, says Dave King, the company's director of product marketing. That's how the company developed its Chatter employee social networking application.
Unveiled to customers in June 2010, Chatter was first rolled out internally to Salesforce's 8,000 global employees in the months before the product launch. "We used it ourselves before we offered it to anybody else," King says.
Every Salesforce employee has a Chatter profile and can post questions or comments, share information and collaborate from around the world in real time. "People tell us that instead of hitting a bottleneck, they post an inquiry on Chatter and get an answer," he says. And the platform is searchable, so users can pull up past discussions, data and more.
The social network gives a voice to individual contributors, King says. "In the past it was people in the corner office who had power in a company. But with this, people anywhere in the company can give input that can be influential."
One young developer was fresh in the company and in his free time was building applications for Chatter, King says. Other users saw them, downloaded them and used them. That creativity and success bubbled up to Salesforce's chairman and CEO, Marc Benioff, who invited the young developer to a closed-door leadership session with company executives about innovation. "That 24-year-old junior employee makes this huge impact and now leads one of our Apple iOS development teams."
Information sharing
Santa Cruz, Calif.-based Plantronics launched a pilot of the Jive Social Business Platform in March for 150 beta testers, with plans to roll it out to all 3,500 employees later this year, says Barry Margerum, the company's chief strategy officer. Jive was brought in to modernize communications among employees, deliver a framework for integrated knowledge management and to encourage crowdsourcing the company's informational assets, he says.
"Crowdsourcing information benefits a company by opening up information to everyone," Margerum says. "You find out people are very smart who you didn't know about. That changes things for everybody."
Margerum says Plantronics chose Jive because of its extensive search capabilities and its good integration with desktop applications from other vendors, such as Microsoft, that Plantronics is already running.
"It has a Facebook-like approach," he adds. "It's clearly not 'what I did yesterday' or 'what I did on my vacation.' It's about a news article someone saw or someone asking a question about a particular idea. You might mention that a competitor brought out a new product and ask people what they think about it."
The end result is real-time idea sharing that benefits the company, Margerum says. "You're trying to get a conversation started that's going to elevate this knowledge to everyone in that community. It's sort of like a brainstorming session."
It's still too early to point to specific successes in the company, he says, but participation has been very strong and is showing clear benefits. "Jive is emerging as a frictionless way to share expertise and opinions with the enterprise pool," he says. "It seems to be motivating employees to share more of their knowledge than we've seen before."
Margerum wouldn't disclose how much his company spends on Jive for its employees, but Jive says that pricing for its Jive Social Business Platform for internal corporate use begins at $12 per user per month.
Introducing and reinforcing company culture
At BMC Software in Austin, Texas, internal social networking has been used for a year, with some 7,000 employees creating 965 groups in which they collaborate and share information, said Hollie Castro, senior vice president of administration. The company uses Chatter from Salesforce and has found that it enhances communications with and among employees in several ways, Castro says.
BMC uses Chatter to introduce new employees to the company before they start their first day on the job. Here the company onboards new workers and shares HR information, company procedures and more in a social place where the new employees can ask questions and meet co-workers immediately.
The social networking system gives a "look into the hearts and minds of employees, where they can see a bit about the culture of the company and fellow workers. Especially if you are a work-at-home employee, I think this is really important," Castro says. "We can disseminate messages and hear from the employee base in a much more fluid and transparent way" compared to email and other communications.
The platform also helps workers share best practices inside BMC, she says. "It allows us to have dialogues on a topic from IT to HR benefits, and to support these policies and allow employees to ask questions and get answers."
Finally, it allows employees to follow topics that are relevant to them, rather than the company sending out information randomly. "This is a huge benefit," Castro says. "It's giving us another vehicle for internal communications that is more effective."
Castro wouldn't disclose how much BMC pays for Chatter, but the basic Chatter social networking service is free, while the paid service, which adds features such as workflow tracking and calendar integration, starts at $15 per user per month, according to a Salesforce spokesperson.
Getting employees on board
The success of any social network depends on user engagement. If employees aren't using it, even the most innovative internal network is a failure. Here are a few keys to success.
Start with the easy stuff
One of the lessons Salesforce executives learned, says King, was to do the easy things first to introduce users to the new system. "We started with a high-value process -- global account planning -- that was easy to implement from a change management perspective," he said. "It had been a total pain to deal with previously, then we put it into a Chatter group. It made everyone's lives easier."
Next were other areas that could bring in quick wins with users, he says, including groups where employees could air grievances. Only then did the company begin to look at larger, more ingrained processes that would be harder to implement and take more time to finish. "Where we see internal social networking go wrong is when people start with those tough ones," he says.
Consult users early and often
BMC's Castro says her company started small with a pilot program so that feedback could be collected and an internal buzz could be generated among employees. "We worked with groups of employees around the world to get input," she says. "You learn along the way. One of the reasons we are getting good use by employees is that we really engaged our user groups up front."
Being responsive to employees' feedback -- and flexible enough to try out their ideas -- is vital, King adds. "What kills these things is when people bring in their own new ideas for how to make improvements and they get shut down by executives or legal or HR," he says. "Even when you're not sure, give things a chance. It's important not to manage it at an institutional level too closely. Inevitably what happens is that there are bright spots for users that pop up. You need to bring them in and encourage them."
Explain the benefits; don't make more work
Another key to getting employee buy-in, King says, is to clearly explain to users what they can do and gain by using the social network. "Articulate where the value is and share those best practices, such as sales leaders telling how they sell more using Chatter. By doing this, these tools get adopted by others."
Better yet, make social networking integral to other tasks, advises Ethan McCarty, digital and social strategist at IBM. McCarty says all 400,000 global employees use IBM's homebuilt social networking platform, Connections, which is also sold to customers. "You have to make it part of the work as opposed to a separate thing people do," he says. "If it's not integrated and is an additional task, it becomes a burden and hurts productivity."
Help employees get comfortable with it
McCarty says it's also important to make sure that your employees understand what the expected user etiquette will be under the systems you choose. "That understanding needs to be arrived at mutually and collaboratively" so that users feel comfortable posting their comments and profiles, he says.
IBM has developed a system where less technical users can earn "merit badges" as they gain experience and confidence with the capabilities of Connections, McCarty adds. "You have different groups of people who are going to use it differently. It builds confidence with those users. We want to reward them for their success using the system."
What's still needed in enterprise social networks
So is this technology ready for every business to deploy? Not quite, according to some analysts.
To make social networking a must-have tool for enterprises, those capabilities need to be tightly integrated with the critical enterprise applications that drive businesses, says analyst Yarmis. Right now, the data from each are typically in different silos -- "they don't talk with each other yet." Once that kind of integration truly arrives, he says, it will make these kinds of platforms more important and useful for enterprises.
The time to begin planning for such integration is now. "While you're investing in it right now, it will put you ahead of the game when this is important five to 10 years from now," he says.
Jon Reed, an independent enterprise analyst with JonERP.com, agrees that social networking will be critical for enterprises in the future, but he cautions against getting caught up in all of the hype surrounding it at this early time in its development. One big issue, he says, is that social networking vendors haven't yet solved all their products' shortcomings or filled all their customers' needs.
That will happen in the next year or two, he predicts, as vendors bolster their offerings and provide the critical features that business users want, he explains. "I think that vendors are going to be aggressively trying to pursue things in the end that deliver a lot more value" than is available now, Reed says.
"Right now you're just scratching the surface. We're early in that journey. It's not headed to be Facebook for the enterprise. It's going to be something entirely different."
(Source: infoworld.com)
Security researcher Jonathan Brossard created a proof-of-concept hardware backdoor called Rakshasa that replaces a computer's BIOS (Basic Input Output System) and can compromise the operating system at boot time without leaving traces on the hard drive.
Brossard, who is CEO and security research engineer at French security company Toucan System, demonstrated how the malware works at the Defcon hacker conference on Saturday, after also presenting it at the Black Hat security conference on Thursday.
Rakshasa, named after a demon from the Hindu mythology, is not the first malware to target the BIOS -- the low-level motherboard firmware that initializes other hardware components. However, it differentiates itself from similar threats by using new tricks to achieve persistency and evade detection. Read more...
A Taiwanese university has sued Apple for alleged patent infringement in its Siri voice assistant, as part of an initiative to help Taiwan's local electronic firms fight back against intellectual property disputes brought by their foreign rivals.
Taiwan's National Cheng Kung University alleged in the lawsuit, filed in a U.S. district court on Friday, that Apple's Siri feature infringes on two of the school's U.S. patents dealing with speech recognition technology. The university is demanding Apple pay a still undetermined amount in damages, and that the court order an injunction on Apple's use of Siri as a feature on its iPhones and iPads.
The school filed the legal action in response to repeated patent infringement lawsuits that foreign companies have filed against Taiwan's electronic firms, according to Chen Xisan, the director of the school's legal department. Apple has for example filed legal action against HTC, which recently saw shipments of its smartphones to the U.S. delayed because of the patent battles.
"We want to help the local industry," Chen said in an interview. "We also want to protect Taiwan's patents from being infringed upon."
Apple did not immediately respond to a request for comment. Read more...
Microsoft Surface tablets will go on sale on Oct. 26, the same day that Windows 8 becomes available, the company disclosed in a 10-K report filed on July 26 with the Securities and Exchange Commission.
Pricing for the Surface tablets, which run Windows 8 or Windows RT, wasn't disclosed. Microsoft didn't respond to a request for comment on the 10-K report or its tablet pricing plans on Monday.
In the 10K filing, Microsoft said, "The next version of our operating system, Windows 8, will be generally available on October 26, 2012. At that time, we will begin selling the Surface, a series of Microsoft-designed and manufactured hardware devices." Read more...