Buyers of Apple's "jaw-dropping" Retina display MacBooks are indeed picking their chins off the floor - in reaction to bizarre on-screen glitches blighting the expensive lap-warmers.
Two fanboi-support forum topics have sprung up to detail problems encountered when the shiny kit runs Mac OS X Lion and is woken up from sleep.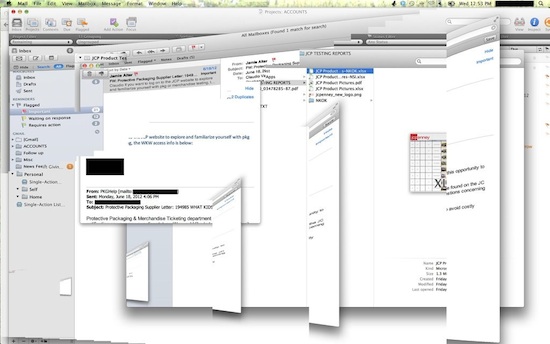 On affected Macs, the operating system's user-interface redraw process completely collapses, scribbling bits of windows over the screen. Forum poster olafwagner said:
I don't get it consistently, but sometimes when the screensaver is on, and I touch the touchpad, the machine doesn't seem to 'repaint' the screen correctly and I get a garbled UI.
Fellow fanboi GarnetR added:
The repainting gets so bad, so many phantom copies of old windows laying around on my screen, that I can't really navigate to anything to fix the problem. Read more...
A computer software failure caused the security fiasco at the Olympics, the Independent on Sunday has said, after talking to insider sources at security contractor G4S.
G4S defaulted on their Olympic security contract two weeks before the start of the games, meaning that 3500 members of the armed forces have been drafted in to provide basic security coverage for the Olympics. The security firm said they were unable to recruit and train enough guards to adequately police the site.
The Indy has suggested both that Home Secretary Therea May was aware of problems with G4S in September and that staff management software was to blame. Read more...
Microsoft has released the last preview of its latest build of Office – the first release of one of Redmond's biggest cash cows.
"This is the first round of Office designed from the get-go for Office to be a service," said CEO Steve Ballmer at a press conference in San Francisco. "We've transformed Office to embrace design concepts shown in Windows 8 and Phone 8 and in Metro. This wave of Office is the biggest and most ambitious we've ever done."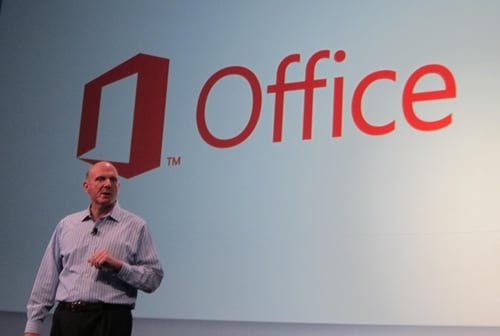 The application suite has been rewritten from the ground up, he said, and while Redmond will still support those who want to install their own copy, Microsoft hopes that the bulk of users will use its code in a cloudy fashion. Developers can also build third-party web applications and embed them in Office.
By default, Office applications will store preferences, custom dictionaries, and – most importantly – documents, in the cloud via SkyDrive. This all fits in the "Metro everywhere" philosophy that Microsodt is pushing, but some companies will have to look at whether this cloudy control is really what they want.
This is also a very touchy-feely build, with pinch controls in all the Office applications. There are the usual expansion/contraction pinch controls, plus swiping between functions within Office and doing things such as selecting fonts and type styles using rotary controls. A stylus can be integrated as well, either to annotate documents or act as a pointer during presentations. Read more...
Sprint has become the first U.S. wireless carrier to offer an ultrabook, which is being sold with a 3G/4G mobile hotspot device at no added cost.
Sprint and Lenovo announced the 13.3-in. IdeaPad U310 ultrabook with a hotspot device for $799.99, subject to a two-year Sprint mobile broadband service agreement, the companies said. Three months of broadband service will be available for free.
The hotspot is either a MiFi 3G/4G mobile hotspot by Novatel Wireless or the Overdrive Pro 3G/4G mobile hotspot by Sierra Wireless. Data plans for the hotspot start at $35 a month for 3GB, or $50 for 6GB. Read more...
A teardown of the Nexus 7 tablet reveals Google is likely to break even on the $199, 8 GB version of its tablet while earning a modest profit on the 16 GB version, priced at $249.
IHS iSuppli said the 8 GB version of the Nexus 7 has a bill of materials (BOM) and manufacturing total cost of $159.25. The 16 GB version total is $166.75.
"Google will at least break even on the 8 GB model ... and will make a modest profit on the 16 GB version," IHS said in a statement last week.
With the 16 GB version, Google is charging $50 more at retail by adding only $7.50 more in memory cost, adding $42.50 to Google's bottom line, IHS said.
IHS said its teardown totals are preliminary and don't include software, licenses and royalties.
IHS analyst Andrew Rassweiler said the Nexus 7 competes more with Amazon's Kindle Fire, also a 7-in. tablet that sells for $199, than the
$499, 9.7-in. iPad. Read more...
Symantec last week crippled a large number of Windows XP machines when it shipped customers a defective update to its antivirus software, the company acknowledged Friday.
"After a full evaluation and root cause analysis ... we have determined that the issue was limited to machines running a combination of Windows XP, the latest version of the SONAR technology, the July 11th rev11 SONAR signature set, and certain third-party software," said Orla Cox, of the company's security response team in a July 14 blog post.
SONAR, for "Symantec Online Network for Advanced Response," is an anti-malware technology that spots suspicious, and possibly malicious, files by monitoring software behavior.
Symantec did not identify the "certain third party software" that contributed to the problem, which caused Windows XP PCs to show the notorious "Blue Screen of Death" error display, then reboot, only to endlessly repeat the cycle. Read more...
Cisco has acquired Virtuata, a privately held developer of technology for securing virtual machine data in multi-tenant data centers, the company said Monday.
Virtuata helps to isolate each virtual machine from others in the same virtualized data center or cloud environment, Cisco said. It can help to address the security concerns of enterprises or service providers that want to host multiple customers, departments or applications in a single infrastructure. Cisco said the acquisition complements its mission to help customers create unified data centers. Read more...
So you live in another country, say somewhere in Europe, maybe, oh I don't know, England. In your perambulations around the Internet you find a load of stuff that interests you and you think "Hmmm, other people might be interested in this, I'll share it online."
You build a Web site that just lists the links ... and links are the only thing on the site ... and you turn it loose.
Next thing you know, your domain name is seized by the U.S. Immigration and Customs Enforcement (ICE) and the various United States government agencies are trying to extradite you so you can be prosecuted for "violations of Federal criminal copyright infringement laws", a crime that could send you to prison for 10 years! Read more...
New software from Web security specialists Blue Coat Systems allows companies to restrict what employees can do on their cellphones while logged into the corporate Wi-Fi.
The software, which works with Blue Coat's ProxySG Web filtering equipment, seeks to fill a gap that exists between company-issued PCs, which are often subject to security and access restrictions, and employee-owned cellphones, on which employees are often free to do what they want.
Companies with high security requirements, such as government departments and banks, see mobile phones as a risk because they could be used to leak documents or send confidential data over insecure channels, said Sasi Murthy, director of Web security at Blue Coat.
"A lot of users are trying to send large datasets over the Internet using Dropbox and Yousendit, but these are not secure," said Murthy. "Now, organizations have the ability to extend application-level control to mobile handsets."
Basic "allow or deny" control is offered for applications such as YouTube, eBay, Gmail and business-networking site LinkedIn. More complex controls exist for apps like Twitter: As well as allow or deny, network mangers can switch on or off the posting of messages, sending email, account login and profile management. Read more...