The H-1B cap for next year was reached this week, completing the annual petition process at the fastest pace since the start of the 'great recession.
The quick pace may prompt Congress to act on new legislation to appease the tech industry and its demands for access to foreign workers. It has several options, including some that do not include a controversial direct cap increase.
The U.S. Citizenship and Immigration Service announced Monday that the cap of 85,000 H-1B visas was met on Monday, just two months after the start of petition submissions on April 1. The federal government's fiscal year begins Oct. 1. Read more...
The MD5 collision attack used by the creators of the Flame malware was significantly more difficult to pull off than an earlier attack that resulted in the creation of a rogue CA certificate, says security researcher Alexander Sotirov.
In December 2008, at the Chaos Communication Congress (CCC) in Berlin, an international team of security researchers that included Sotirov presented a practical MD5 collision attack that allowed them to obtain a rogue CA certificate signed by VeriSign-owned RapidSSL.
The attack was significant because it showed for the first time that at least one of the known theoretical MD5 collision techniques could be used in practice to defeat the security of the HTTPS (HTTP Secure) protocol. To pull off the attack, the researchers used computing power generated by a cluster of 200 PlayStation 3s. Read more...
Linux Mint, flush with its recent popularity in the distro stakes, is looking to take the pain out of installation with its first hardware line, called mintBox, that comes in smooth and ribbed versions.
"We're passionate about what we do and for our very first Mint device, we wanted something unique, something special and extraordinary. The mintBox is Mint in a box. It's tiny, it's silent, it's extremely versatile and it comes packed with connectivity," said the group in a blog post.

The dual-antenna boxes come in a $476 basic model with an AMD 1.0 GHz G-T40N processor, 250 GB of disk storage and 4GB of RAM, or buyers can double the RAM and get a 1.65 GHz G-T56N chip for the $549 Pro model. Both mintBoxes use fan-free metal cases, with the Pro version's being ribbed for extra heat dissipation. Read more...
Apple's Passbook, announced at yesterday's developer conference as part of iOS 6, is clearly a step towards NFC payments, but even in its present form it has people pretty excited, so it's a shame that it won't work with the UK's biggest e-ticket deployment.
Passbook is like an address book for storing tokens and tickets, with associated machine-readable barcodes and geographic hotspots. The tickets are presented to the user with a consistent interface, and integrated into the lock screen for automatic display where needed, but Apple will only display static tickets: thus locking out the barcode-based e-tickets proving so popular on the UK train network.
Barcode ticketing is old news, and a handful of smartphone applications are already dispensing with paper to display the black-and-white codes on screen. Ticket gates in London's Kings Cross and Euston stations, along the Birmingham line, and elsewhere in the UK already feature integrated readers poised to scan smartphone screens. Read more...
Richard Stallman, founder of the Free Software Foundation, was distressed to find his personal belongings had been liberally distributed sans GPL - his prized laptop, wallet and passport were nicked at a conference in Argentina.
The snatch happened as fans of the Emacs author shouted over each other in an attempt to talk to him after he gave a talk at the University of Buenos Aires on Friday, reports an eyewitness and various Spanish-speaking bloggers.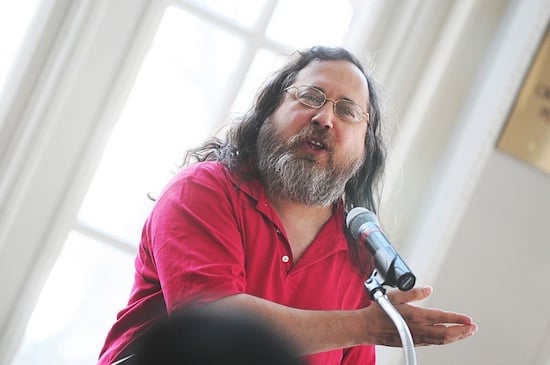 The thief, who had presumably sat through the lecture, was looking for more than a FSF-themed fridge magnet - and instead made off with Stallman's bag while the bearded GNU Public Licence (GPL) mastermind was handing out stickers, chatting and flogging merchandise.
The bag taken also contained the GCC granddaddy's medicine and money. An audience member claimed that a tearful RMS was clearly cheesed off: Read more...
Facebook is helping Apple to solve the biggest problem facing mobile app stores: sorting through the quagmire of mediocrity endemic in the industry. But more importantly Facebook has found a way to turn mobile punters into profit.
The Facebook App Center (launched last week) isn't just about mobile apps, it's also a place where fans of web games such as Bubble Witch Saga can find out where their friends have gone (over to Candy Crush Saga, as it happens). Apple's decision to embed Facebook recommendations into its on-device store with iOS 6 shows Cupertino recognises that it can't fix its moribund application store on its own.
The existing discovery mechanism for mobile applications - searching and picking from the top ten - results in a starkly polarised marketplace where a handful of programs make millions while half a million make nothing at all. Read more...
After years of study, Verizon Wireless Tuesday unveiled a shared data plan that works across 10 Verizon devices.
The data plan is folded into Verizon's new Share Everything Plans that's slated to roll out on June 28 for new and existing customers.
The Share Everything Plans will offer unlimited voice minutes, text, video and picture messaging for 10 Verizon Wireless mobile devices, the company said in a statement.
The plans call for customers to pick a monthly access fee per device, ranging from $10 for tablets up to $40 for smartphones. Each device must be added to an account. Read more...
Amazon Web Services has introduced a micro version of its cloud-based database service RDS running MySQL and priced from $19 a month, the company said on Monday.
Just like Amazon's other cloud services, RDS (Relational Database Service) takes care of set-up, operations and scaling. For example, the service automatically patches the database software and backs up data.
Code, applications, and tools that IT staff already use with their existing on-premise databases can also be used with RDS, according to Amazon.
The micro RDS instance or virtual server is designed for Web applications with lower traffic demands, test applications and small projects, Amazon said. Read more...
At its annual storage conference, Dell today announced a storage array in a server blade form factor that can be combined with networking and server blades in a single chassis.
Each Dell EqualLogic PS-M4110 Blade Array comes in four models and can hold up to 14 drives for up to 14TB of data per array, up to 28TB per group (two blades) inside a blade chassis, and up to 56TB with two groups inside one blade chassis. The drives come with a native encryption option.
The Blade Arrays can be combined with the Dell PowerEdge M420 blade servers and Dell Force10 MXL switches in a Dell PowerEdge M1000e blade chassis to create a pre-tested and certified Converged Blade Data Center. Read more...
Companies including AMD and ARM have formed a consortium to provide an open specification for software to be written and deployed in a cost-effective manner across multiple hardware configurations, it was announced Tuesday.
The HSA (Heterogeneous System Architecture) Foundation will provide an open hardware interface specification under which program execution can be easily offloaded to other processing resources available in servers, PCs and mobile devices. The new specification will lead to applications that are portable across architectures, while also enabling workloads to be broken up between CPUs and graphics processors for faster and more power efficient computing. Read more...