Ordinarily, this would not have been a problem, but an error in the construction of the EPO circuit let the signal through, which resulted in an outage. It turned out that the EPO bypass circuit was not constructed to the as-built drawing when the center was built years earlier.
"The designs and actions of engineers, architects, and installation contractors can have latent effects on operations long after construction," said Filas.
Filas believes that "outside forces can make or break the data center just as easily as internal forces." But he also sees risk levels rising, particularly as data centers rely more on external suppliers.
Electrical contractors, for instance, may not understand the specific needs of a data center. "We are frequently questioned on why we provide redundant power to racks," said Filas.
Jeff Pederson, manager of data recovery operations at Kroll Ontrack, looks at the root causes of data loss and sees problems caused by both internal staff and external providers. But, he added, service people attempting to get equipment up and running "tend to cause a lot of the damage we see." Read more...
Microsoft has released to the World near-final code for Windows 8 - its riskiest bet yet.
Officially called a Consumer Preview, but actually a beta, the next Windows 8 milestone will be the release candidate followed by release to manufacturing, Windows Division president Steven Sinofsky said Wednesday.
Microsoft chose the Android-dominated and telco, device and service-provider centric Mobile World Congress in Barcelona, Spain, to officially launch the Windows 8 beta preview.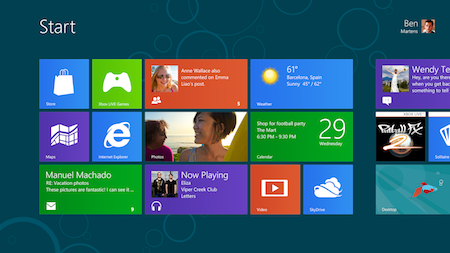 So what is new since the Developer Preview handed out at the BUILD conference last September? More than 100,000 code changes, apparently, as well as a bunch of apps that have not been made public before.
Windows 8 has a dual personality, with the old Windows desktop alongside a touch-friendly "Metro" user interface, powered by the new Windows Runtime.
A common complaint about the developer preview was that usability of the Metro side was fine with touch, but poor with keyboard and mouse. All fixed now, according to Microsoft vice president Antoine Leblond. "We paid just as much attention to using Windows 8 with a mouse and keyboard as with touch," he told the press at MWC.
Windows 8 uses the four corners of the screen as hot areas, on the grounds that it is easy to move the mouse there, so bottom left becomes the Start button - although the button itself is missing - top left a kind of alt-tab for switching between running apps, and so on. Read more...
Google is hours away from changing its terms of service for its users, just as French data protection authority CNIL once again urged Larry Page's company to postpone its planned cut-and-shut tweak to its privacy policies.
It said in a letter (PDF) to Page that CNIL's "preliminary analysis shows that Google's new policy does not meet the requirements of the European Directive on Data Protection (95/46/CE), especially the information provided to data subjects."
The DP watchdog added that it was disappointed by Google's claim that it had "extensively pre-briefed" data protection authorities across the EU. CNIL countered that that wasn't the case.
Those authorities that were told in advance about Google's planned changes to its terms of service only saw the contents of the privacy policy "hours before its public release", CNIL said. Read more...
Microsoft's Azure cloud infrastructure and development service experienced a serious outage on Wednesday, with the system's service management component going down worldwide starting at 1:45 a.m. GMT.
"We are experiencing an issue with Windows Azure service management. Customers will not be able to carry out service management operations," Microsoft said in an initial message on the outage on its Azure service dashboard.
The issue has been "mitigated and service management is restored for the majority of customers," Microsoft said in a message posted at 1:30 p.m. GMT. "We still need to work through some issues before we can completely restore service management."
The incident's root cause "has been traced back to a cert issue triggered on 2/29/2012 GMT," Microsoft said in a previous update. Read more...
Hewlett-Packard has cut 275 jobs in its webOS group, as part of its strategy to turn the operating system over to the open-source community, a source said Tuesday.
HP said last year that it would stop making devices that use the operating system which was developed by Palm for phones and tablets, and later decided to release the software under the Apache License 2.0. HP had acquired Palm in 2010.
As webOS continues the transition to open-source software, HP no longer needs many of the engineering and other related positions that it required before, the company said in a statement on Tuesday. "This creates a smaller and more nimble team that is well-equipped to deliver an open source webOS and sustain HP's commitment to the software over the long term," it added. Read more...
IBM has laid off just over 1,000 employees so far this week, and more layoffs may be possible, according to an employee organization.
IBM never comments on the specifics of any cuts, and the only reason that the company's job action is noticeable is due to the Alliance@IBM/CWA Local 1701, which gathers its data directly from IBM employees.
The alliance keeps a running tally of cuts by business units while affected employees post comments on a bulletin board.
An alliance spokesman was uncertain as to how many employees will lose their jobs in this latest round of cuts. The employees are from multiple business units and locations in the U.S., and nearly half of the employees "are mobile or work from home," according to a union spokesman. Read more...
Apple would be making a "brilliant" move if it decided to give away OS X Mountain Lion to Mac users as a free upgrade, an analyst said today.
One clue that that is a possibility was buried in a July 2011 filing with the U.S. Securities and Exchange Commission (SEC), in which Apple for the first time said it was deferring a small portion of the revenue from each Mac sale to account for "unspecified software upgrades and features free of charge to customers."
"I think it's a great idea," said Ezra Gottheil, an analyst with Technology Business Research when asked about a potentially-free upgrade for OS X users. "It would be brilliant." Read more...
Having changed the underlying architecture of JavaFX, Oracle is discontinuing older versions of this platform for building RIAs (Rich Internet Applications). As a result, applications based on JavaFX 1.2 and JavaFX 1.3 will need to be updated to run on JavaFX 2.0 by the end of this year.
"Companies and developers who have JavaFX 1.x applications in use today are strongly encouraged to migrate their applications to the JavaFX 2," an Oracle blog post announcing the discontinuation stated. Read more...
The growth in worldwide server shipments was slower than expected during the fourth quarter due to a shortage in the supply of hard drives, and the trend will continue into the first quarter this year, Gartner said in a study released on Thursday.
Worldwide server shipments totaled 2.5 million units during the fourth quarter last year, increasing by 4.5 percent compared to the same quarter in 2010. However, server makers could not meet demand due to hard-drive shortages. Shipments fell short of demand by around 200,000 units during the fourth quarter, said Jeffrey Hewitt, research vice president at Gartner. Read more...
The mobile world has been good to Linux, whose Android derivative has enjoyed a success that few could have predicted just a few short years ago.
And indeed, until very recently, Android was Linux's main contender in the mobile world. Yes, there have been others coming and going -- LiMo, Maemo, Moblin, and MeeGo, for example -- but none of them have even approached Android in terms of traction.
That's why this year's Mobile World Congress has been so striking. Announcements coming out of the show have made it perfectly clear that mobile Linux's days of being more or less completely dominated by Android are coming to an end. Read more...