Google is once again under fire after a Stanford researcher discovered that the search giant and other advertising outfits have circumnavigated the privacy settings of millions of Apple Safari users.
According to the Wall Street Journal, Google, Vibrant Media Inc, WPP PLC's Media Innovation Group LLC and Gannett Co.'s PointRoll Inc used code that "tricked" Safari into allowing users to have their online browsing habits tracked.
Apple's browser blocks most tracking by default with exceptions for websites that, for example, require interaction from a user – such as the filling in of an online form. Google claimed in a statement that the WSJ had "mischaraterised" the code used by the ad companies. Read more...
Brazilian website Gemind has revealed screenshots claimed to show a desktop version for MAC OS and Windows of Microsoft's SkyDrive.
Currently Windows and Mac users can access Skydrive – Microsoft's cloud storage for files, photos, music, etc – through a browser and it's clunky compared to, say, the simple Dropbox icon for access to all your Dropbox cloud stuff.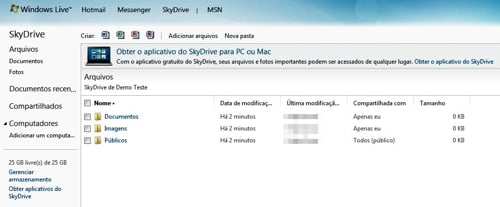 Gemind shows a screenshot (above), in Portuguese, of a SkyDrive client for a Windows or Mac desktop with a set of three folders in the pane. The site also showed screenshots showing pricing for extra SkyDrive storage.
SkyDrive offers 25GB of free storage whereas Dropbox offers less than a tenth of that at 2GB. You can upgrade to, say, Pro 590 and get 50GB for $99/year or $9.99/month. SkyDrive is much less than that, if the Gemind screenshot is to be believed, with SkyDrive +50 giving you an extra 50GB for $25/year. There are SkyDrive +20 and +100 plans as well. Read more...
Google chairman Eric Schmidt plans to sell off $1.45bn (£914m) shares in the company - a move that represents his biggest annual disposal in the company.
According to a regulatory filing submitted to the US Securities and Exchange Commission on 17 February, the one-time chief of the Chocolate Factory will cut his share ownership of the company by about 0.7 per cent over the coming year.
At the end of 2011 Schmidt, 56, owned around 9.1 million shares of Class A and Class B common stock, or a 2.8 per cent chunk in Google. The chairman plans to offload 2.4 million shares of Class A common stock. Read more...
Apple will introduce a new Mac security model with OS X Mountain Lion this summer that by default lets users install only programs downloaded from the Mac App Store or those digitally signed by a registered developer.
Some experts called Gatekeeper -- Apple's name for the model and technology -- a game-changer while others criticized it as less than watertight.
Gatekeeper will block the installation of the most common kind of Mac malware yet: Trojan horses unwittingly executed by users who have been duped into downloading and installing fake software.
Last year, several campaigns of "scareware," programs that posed as antivirus software but actually infected systems with attack code, made headlines. Apple responded to the scareware threat by repeatedly updating a rudimentary blocking list that debuted two years earlier. Read more...
Stripping OCSP (Online Certificate Status Protocol) and CRL (certificate revocation list) checks from Google Chrome could have dangerous implications because it will turn Google into a single point of failure, according to security vendor Symantec.
When accessing a website over HTTPS (HTTP Secure), browsers check whether its SSL certificate has been revoked by the issuing certificate authority (CA). This is done by querying the CA's OCSP responder or by checking its published certificate revocation list.
For usability reasons, all major browsers currently ignore OCSP and CRL requests that result in network errors by default, in what is known as a soft-fail mechanism. However, some of them do offer users the option to enable hard-fail, which triggers errors for every request that goes unanswered. Read more...