The massive adoption of smartphones and tablets in 2011 was accentuated by the Christmas period sales figures. According to mobile analytics firm Flurry, close to seven million new smartphones were activated globally on Christmas Day.
In the final week of 2011, the number of downloaded apps passed the billion mark for the first time. In 2012 that level is expected to be commonplace.
Such a large market is immensely attractive to those looking to profit illegally from the boom. Using apps to deliver malicious payloads is not new but there has been a marked increase in the number of bad apps detected over the past two years. Read more...
A drop of blood or saliva can be analysed using an ordinary touch screen - and once boffins perfect the identification of biological molecules, then diagnosis by iPhone isn't far off.
The work is being done in South Korea, where researchers at the Advanced Institute of Science and Technology have been spitting and bleeding onto capacitive touch screens to see what details they can extract from the samples using standard touchscreen tech.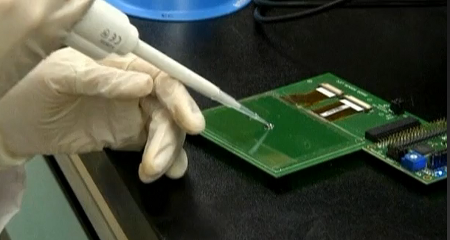 It is early days, but the researchers explained that they can spot the presence of biomolecules and must now attempt to identify what they are using a touchscreen. Scientists with proper biomedical equipment in a lab can easily differentiate between various biomolecules, of course.
The plan, therefore, is to create "a film covered in a substance which can selectively react to certain biomolecules so that we can determine what those biomolecules are", which would provide the same functionality, just not on a standard iPhone screen.
The technology would certainly seem a contender for the latest X-Prize, which requires the use of non-invasive techniques to diagnose illness. The taking of blood was much debated by the team behind the prize, but a thin-enough needle should allow a sample without the patient noticing and spitting is certainly within the rules.
Given the ubiquity of touch screens it's not surprising that alternative applications are being sought for them, and we look forward to the day we're never more than gobbing distance of a diagnosis.
(Source: theregister.co.uk)
If the jump from the GNOME 2 desktop to the new GNOME Shell or Unity desktop in Ubuntu has left you feeling dissatisfied, one increasingly popular distribution just might offer something that turns out to be the best of both worlds - Linux Mint.
Originally created as a spinoff of Ubuntu, Mint has long since come into its own and offers a number of advantages over other distros, including a desktop that dares to stay firmly in the Middle Earth of the ongoing desktop holy wars.
Mint takes what's good about the GNOME Shell while retaining what was great about GNOME 2. The result is not, surprisingly, a Frankendesktop of horrendous proportions, but something quite usable. The new Fedora and Ubuntu's Unity could be considered responsible for an upsurge of interest in Mint, especially since Mint 12 late last year. Read more...
Microsoft today announced it has kicked off a "technical preview" of the next version of its money-making Office suite and promised a public beta will ship this summer.
The move is a repeat of the route Microsoft took with Office 2010, which was distributed to a select group of testers as a technical preview in July 2009.
Microsoft said little about "Office 15," the code name for the product, and nothing about its Word, Excel, Outlook and PowerPoint applications in a blog post Monday that announced the preview.
"I'm not able to share too much about Office 15, but I can tell you Office 15 is the most ambitious undertaking yet for the Office Division," wrote P.J. Hough, the executive who leads the Office division. "With Office 15, for the first time ever, we will simultaneously update our cloud services, servers, and mobile and PC clients for Office, Office 365, Exchange, SharePoint, Lync, Project, and Visio." Read more...
Upgrades, system migration, support headaches -- IT folks are probably dreading the next major Windows rollout. Yet Windows 8, which is scheduled to move to the beta stage in late February and will likely launch in the fall, does offer several compelling new features for both IT and end users.
By far the most talked-about aspect of Windows 8 is the Metro interface. Designed for touchscreen computers and tablets, and built to use HTML5 and CSS3, Metro ties into Internet apps like SkyDrive and Flickr. As with Windows Phone 7, you can swipe to navigate through tiles showing live Web info like stocks and news as well as more traditional apps. Read more...
A court in California rejected Oracle's bid to use a fraud claim to undo an agreement to support the Itanium processor, that it is said to have made with Hewlett-Packard.
"The alleged fraud did not prevent Oracle from participating in the negotiations or deprive Oracle of the opportunity to negotiate," Judge James P. Kleinberg of the Superior Court of California, Santa Clara County said in a 21-page ruling on Monday.
The Judge was referring to HP's settlement agreement in 2010 with Mark Hurd, former CEO of HP, who later joined Oracle as president. Although Oracle was not a party to the previous litigation by HP against Hurd, its participation in the Hurd litigation settlement negotiations was extensive, he added. Read more...
The U.S. and U.K. are relatively well prepared for cyber attacks, compared to many other developed nations, but everyone has more work to do, according to a new cyber security study from McAfee and Security & Defence Agenda (SDA).
The report, which ranks 23 countries on cyber security readiness, gives no countries the highest mark, five stars. Israel, Sweden and Finland each get four and a half stars, while eight countries, including the U.S., U.K., France and Germany, receive four stars. India, Brazil and Mexico ranked near the bottom.
No country is ahead of cyber attackers, said Phyllis Schneck, CTO of the public sector for McAfee. The bad guys are "faster and swifter" than the good guys, she said. Read more...
Recession-fueled stagnation is slowly drawing to an end as U.S. companies are signaling they're ready to sink some cash into growth and emerging markets. That spells opportunity for certain IT professionals: Companies are looking to hire and retain those who are skilled in areas such as mobility, cloud computing, software development, and big data.
Such is the big picture painted by two separate reports released this week. One comes from research company Hackett Group, titled "2012 IT Key Issues: Coming to Terms with the 'New Normal'." It identifies Global 1000 companies' key priorities for the year. The other is IT staffing company Bluewolf's "2012 IT Salary Guide," which provides an in-depth look at IT salaries and hiring trends. Read more...
Salesforce.com today unveiled a new SaaS (software as a service) help-desk application called Desk.com that can reach users through social networks like Facebook and Twitter. Desk.com, which is based on Salesforce.com's recent acquisition of Assistly, can be deployed in a matter of days even by companies with no dedicated IT staffers, according to Salesforce.com.
Ample engineering work went into Desk.com since the Assistly acquisition in September, said Alex Bard, general manager of Desk.com, who served as Assistly's CEO. "This is fundamentally a brand-new product," he said. However, Salesforce.com carried over many of the workflow characteristics from Assistly, Bard added. Read more...
You hear the word "monopoly" thrown around a lot these days, especially about Google and Apple.
After Google's bid to acquire Motorola, the integration of Google+ signals in Google Search, and the announcement of Google's consolidation of privacy policies and data gathering across Google services, critics have been saying Google has a monopoly in the search market.
Consumer Watchdog, referring to Google, said: "The Internet is too important to allow an unregulated monopolist to dominate it."
U.S. Rep. Marsha Blackburn (R-Tenn.) said this week that "Google's move to eradicate consumer choice altogether across their various platforms raises additional questions about how the company's monopoly power might hurt competition." Read more...