Apple has pulled an app that asked users to judge how Jewish they were after a lawsuit was brought against it in Paris.
The app 'Jew or not Jew' has been taken out of all of Apple's app stores globally, after French anti-racism campaigners complained. Apple took the app out of the French app store on 14 September, out of the European app stores on 18 October and pulled it from worldwide app stores today.
'Jew or not Jew' catalogued Jewish personality traits according to how genetically Jewish users considered themselves to be. Read more...
Intel is giving new life to its Pentium processor for servers, and has started shipping the new Pentium 350 chip for low-end servers.
The dual-core processor operates at a clock speed of 1.2GHz and has 3MB of cache. Like many server chips, the Pentium 350 lacks features such as integrated graphics, which are on most of Intel's laptop and desktop processors.
The iconic Pentium line of processors has been around for more than a decade, but now is mostly targeted at budget laptops and desktops. Pentium was Intel's flagship PC processor line, a mantle now held by the Core chips. The company once offered Pentium III and Pentium II Xeon processors for servers. Read more...
Salesforce.com's Heroku division has launched a standalone version of its PostgreSQL-based database, giving developers a "battle-tested" way to build applications with the cloud platform of their choosing, the company announced this week.
"Heroku Postgres has successfully and safely written 19 billion customer transactions, and another 400 million write-transactions are processed every day," Heroku said in a blog post. Customers who use the service can focus on other application development tasks besides database administration, Heroku said.
The option joins Salesforce.com's previously announced Database.com service, which exposes the database infrastructure within its Force.com development platform. Read more...
The failure of the Congressional Super Committee to reach a deficit reduction agreement triggers automatic federal spending cuts beginning the next fiscal year, which will likely make a lot of government IT contractors nervous.
Beginning in fiscal 2013, the government will have to cut $1.2 trillion over 10 years under a process called "sequestration."
The first indications of how those cuts may impact federal tech spending may appear in the first federal budget proposals expected in February. The impact of the cuts on tech companies may be mixed, say analysts.
Ray Bjorklund, chief knowledge office at Deltek (formerly Federal Sources), believes that federal IT spending will still rise one or two percent in the next budget. Read more...
Hitachi plans to aggressively pursue large cloud computing projects and market software that will integrate data from infrastructure across entire cities, it said Thursday.
The massive Japanese conglomerate said it will market cloud-based systems that merge and analyze data collected from diverse sources such as roads, shipping, energy grids and mass transport.
"Currently these systems exist independently, such as train control systems or company management systems, but we can connect them using the cloud," said Kaichiro Sakuma, who heads Hitachi's platform business. "This is something that other IT vendors can't offer." Read more...
After a month of using Siri, the new voice-controlled "personal assistant" available on the iPhone 4S, I've decided it may be time to add voice control to the list of paradigm-shifting ways to interact with a computer -- right behind the mouse, keyboard and, more recently, touch gestures. While voice control remains far from perfect, the ease of use and instant results Siri delivers may be just enough to shift people's habits. It's certainly changed mine.
Controlling computers using voice commands has been a promised fantasy for years. Though various companies have tried, none has delivered something easy, convenient, or reliable enough to work well for most users. Apple's Mac OS has had voice commands built in since the mid-1990s, and I recall Windows booths at CompUSA staffed by Dragon Dictation engineers wearing awkward headsets, as OS/2 Warp gathered dust on the shelves.
In fact, most phones have been able to do voice-controlled contact and number dialing since before the arrival of smartphones. Despite widespread availability, voice control never gained traction because the effort required to get it to work right wasn't worth it for most people. Voice control -- from the old Speakable Items in Mac OS to the method of dialing contacts on older cell phones -- always required specific phrasing that sounded more like a command than natural speech.
"Dial 5-5-5-5-5-5-1-2-3-4" -- enunciating each word and number -- is a lot harder to do on a regular basis than to simply say "Call mom." Read more...
Added within a recent update to Delta's mobile application available for iPhone, Android and Windows phone owners, air travelers now have the ability to watch the progress of checked bags before, during and after the flight. After the Delta customer launches the application on a smartphone, they select "Track My Bags" and enter either the bag tag number or the file reference number into the screen. After entering a last name as well, the app displays for the current location of the bag as well as previous areas that the bag passed though. Assuming the smartphone has a camera, the user can also scan the barcode included on the ticket supplied by Delta when checking the bag. Read more...
When it comes to brand loyalty in the smartphone market, Apple appears to be ahead of the pack. According to the results of a survey by research firm GfK, 84 percent of iPhone owners said they would choose another iPhone when they next replace their smartphone.
Among users of phones powered by Google's Android operating system, 60 percent said they would stay with a phone using the same software.
Brand loyalty was weaker among BlackBerry users, with only 48 percent saying they would likely stick with one of Research In Motion's devices. Last month the Canadian company had a torrid time of it, together with users of its smartphones, when its communication network suffered a three-day outage. Read more...
Ubisoft is known for laying the blame for many problems on the unauthorized downloading of its games. Stanislas Mettra, creative director of the upcoming game 'I Am Alive,' confirms this once again by saying that the decision not to release a PC version is a direct result of widespread game piracy. However, those who look beyond the propaganda will see that there appears to be more to the story than that.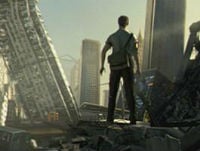 Ubisoft's highly anticipated adventure game 'I Am Alive' is expected to be released on the PlayStation Network and Xbox Live Marketplace this winter.
The first demos of the game were well received by the gaming community and as a result many PC gamers asked Ubisoft to release a PC version as well. This is not going to happen anytime soon though.
PC gamers shouldn't "bitch" about it, 'I Am Alive' creative director Stanislas Mettra said in a recent interview. In his commentary Mettra insinuates that many of the people who are asking for a PC release are in fact going to end up pirating the game. Read more...
There are simply no words to describe the raw chaotic energy of a shopping crowd at a high-traffic mall in the height of Black Friday. Keep your head down, push your way to where you need to go, and make your way to the checkout line. Or, if you are just looking for a good time, find a corner to hide in and enjoy some people-watching. Maybe you've decided to sit at home and smugly surf the Internet, laughing at those who didn't get to sleep off that tryptophan overdose most of us will suffer from all that turkey. Read more...