Google unveiled its much-anticipated digital music store Wednesday, opening a new front in its battle with Apple to provide services over mobile devices.
For the first time, Google Inc. will sell songs on the Android Market, its online store for apps, movies and books. The service is available over the next few days to customers in the U.S., but it aims to roll it out eventually to some 200 million Android users globally.
Some songs are free, while others were priced at 69 cents, 99 cents and $1.29 — the same prices as on Apple's iTunes. Artists whose work is available right away include Adele, Jay-Z and Pearl Jam. The store will feature dozens of free tracks from artists like Coldplay, Rolling Stones and Busta Rhymes. Read more...
There was a day not so long ago when the BlackBerry was the phone of choice among members of the business community. But according to the results of a new survey, this is no longer the case.
Questioning 2,300 mobile workers at more than 1,100 enterprises worldwide, the iPass survey found that Apple's iPhone is now the leader among such users, with 45 percent of respondents saying they use one, compared to 32.2 percent who use a BlackBerry. A year ago, BlackBerry was marginally ahead of the iPhone, with 34.5 percent of the share to the iPhone's 31.1 percent.
Notably, Android almost doubled its share over the past year, with 21.3 percent of those polled saying they use a phone running Google's mobile operating system.
When asked about buying intentions over the next 12 months, the iPhone came out on top with 18 percent saying they intended to purchase Apple's device. Android was the next most popular choice, with 11.2 percent planning to get a phone running the increasingly popular operating system. Read more...
The larger a company becomes, the more difficult it is to ensure its workforce gets the information they need, when they need it.
That was the dilemma facing the UK-based speaker maker Bowers & Wilkins (B&W) two years ago.
The 46-year-old company had reached annual revenues of about £200m and was operating in about 60 countries worldwide, but it had a problem with the quality of information being gathered about its operations.
Regional teams were compiling their own business reports and emailing them to managers - but these reports often contained inconsistent and erroneous information.
"The dispersed nature of the teams drove us to have problems with reporting. Read more...
Cloud computing is big business, in part because companies are happy to shell out lots of cash to buy themselves time and development flexibility.
In this quest to displace the operations bottleneck that exists within enterprises, developers are taking on more of the operations role for themselves and to reduce this new burden have started a mad rush to run anything and everything in the cloud.
We've long talked about the need to outsource everything but one's core business, but it's developers who are doing this far more than any other group within the enterprise.
Now we have databases in the cloud, logging in the cloud, and even network monitoring, thanks to Boundary's new service, in the cloud. Read more...
After several delays, Fedora 16 has been delivered. While hold-ups are a characteristic of the distro's release cycle, these latest ditherings have put the latest version of Fedora a few weeks behind its main competitor, Ubuntu.
Fortunately for Fedora fans this release is well worth the extended waiting time, offering an updated GNOME Shell, the Linux 3.0 kernel and plenty of the under-the-hood improvements that Fedora is known for.
Dubbed Verne and sporting desktop artwork reminiscent of Jules Verne's 20,000 Leagues Under the Sea, Fedora 16 continues the role Fedora took on earlier this year as the central showpiece for the GNOME 3.0 desktop.
While other major distros such as openSUSE - version 12.1 of which was delivered on Wednesday - have also released GNOME 3 builds, Fedora remains one of the most popular ways to stick a toe in the GNOME 3 waters: extra effort has gone into making Fedora's basic theme and the OS's overall look fit in with GNOME 3. As such perhaps the most notable part of Fedora 16 is the upgrade to GNOME 3.2.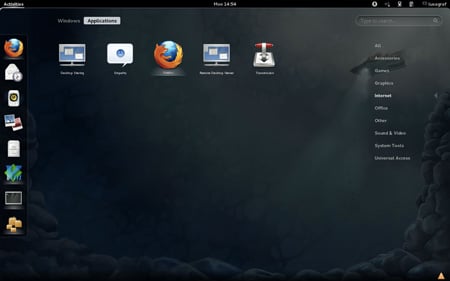 This marks the second incremental update for GNOME but for Fedora users who haven't stayed up to date, Fedora 16 will likely mean leapfrogging straight from GNOME 3 to 3.2.
The good news for those having a little trouble adjusting to GNOME 3, there will be no major changes coming in the next few GNOME releases. Instead, the GNOME team has been focusing on polishing and improving the foundations of GNOME 3 and the improvements show in Fedora 16. Read more...
The U.S. military has been putting Google Android and Apple iOS through the paces over the past year or so in hopes of bringing ever-useful smartphones and tablets to the front lines. Android is poised to secure another edge over iOS as it draws closer to complying with stringent military-grade network requirements.
Beating iOS to the compliance punch gives Android yet another advantage over Apple's platform for broader military enlistment. Android already offers greater flexibility thanks to its open source nature; Apple's relatively inflexible business practices, such as how much it would be willing to accommodate military customers, gives Android an edge, too. What's more, Android devices are less expensive than iDevices.
Still, should the military go with Android, it runs the risk of greater exposure to security risks if it isn't careful as to how it develops and enforces mobile policies: The feds and the military have not been immune to the security risks of the consumerization of IT trend that's affected the business world, according to M86 Security Labs. It's easier for cyber criminals to propagate malware to Android devices via Google's loosey-goosey Android Marketplace than to iPhones and iPads through Apple's tightly controlled App Store. Read more...
Google is enabling developers who use the Adobe Flash Professional developer tool to convert their animations to HTML5 via an extension based on Google's Swiffy conversion technology.
The debut follows in the wake of Adobe's revelation last week that it would cease work on its mobile Flash Player, opting instead for HTML5 and the Adobe AIR runtime as a way for Flash applications to reach mobile devices. Google's Swiffy Extension for Flash Professional trails the July introduction of Swiffy for converting Flash SWF files to HTML5. Read more...
Seldom has a piece of proposed Internet legislation evoked as much as outcry and debate as the Stop Online Piracy Act. Over the last few weeks, hundreds of consumer and technology groups, industry associations, trade unions, free speech groups, security experts, academics and Web companies have ranged themselves on both sides of the debate.
The House Judiciary Committee today held an important hearing on the bill and even that is coming in for some scathing criticism with groups such as the Computer and Communications Industry Association calling the hearing heavily lopsided in favor of SOPA's supporters.
SOPA (H.R. 3261)  is sponsored by Lamar Smith (R-VA), John Conyers (D-MI), Bob Goodlatte (R-VA), Howard Berman (D-CA) and several co-sponsors. It would basically allow content and IP owners (read Hollywood and the RIAA) to obtain court orders requiring ISPs, search engine companies and others to use DNS blocking and filtering to block access to sites that are deemed as selling counterfet U.S goods and copyrighted content. Read more...
Google is offering wireless network owners worldwide the possibility of opting out from its Wi-Fi geolocation mapping efforts, in the wake of a decision by the Dutch Data Protection Authority (DPA) that this process is in violation of legislation in the Netherlands.
Google uses its Street View cars to build a global database of wireless access points and their geographic location. The database is used by the company's services and other Android applications to approximate the location of individuals based on the Wi-Fi networks detected by their handsets at a given time.
The same method is used by other smartphone manufacturers like Apple and Microsoft because it's quicker than using GPS and consumes less battery power.
However, the Dutch DPA determined that Wi-Fi MAC addresses, coupled with their geographic location, represent personal information and collecting it without consent is a violation of the Dutch Data Protection Act. Read more...
Microsoft on Tuesday slammed the door on updating third-party software via Windows Update in the upcoming Windows 8.
One security expert said the company was missing a big opportunity to improve the overall security of Windows PCs.
The new operating system will not update non-Microsoft software, said Farzana Rahman, the group program manager for Windows Update, in a blog post.
"The wide variety of delivery mechanisms, installation tools, and overall approaches to updates across the full breadth of applications makes it impossible to push all updates through [the Windows Update] mechanism," said Rahman. "As frustrating as this might be, it is also an important part of the ecosystem that we cannot just revisit for the installed base of software."
Rahman's statement was the clearest one ever made by Microsoft regarding the fact that it would not take other applications under its update wing. Read more...