The UK's Intellectual Property Office has changed its guidance on how its reviewers will consider the 'mental act' exemption to patentability when assessing patent applications for computer-implemented inventions.
Under the UK's Patents Act inventions must be new, take an inventive step that is not obvious and be useful to industry in order to qualify for patent protection.
An invention cannot be patented, according to the Patents Act, if it is "a scheme, rule or method for performing a mental act, playing a game or doing business, or a program for a computer … as such". Other inventions that cannot be patented include "a discovery, scientific theory or mathematical method", according to the Act.
Reviewers will not automatically rule that the computerisation of what would be a purely mental act if done without the aid of a computer is unpatentable, the IPO said. The IPO's amended guidance reverses a previous approach it said its reviewers would adopt. It also follows a recent High Court ruling on the application of the 'mental act' exclusion to patentability of computer simulation software. Read more...
Developers at the BlackBerry DevCon in San Francisco on Tuesday gave Research In Motion high marks for laying out a clear operating system strategy and standing by its PlayBook tablet.
RIM plans to consolidate its PlayBook, smartphones, and even embedded systems under BBX, a single operating system based on the QNX OS, co-CEO Mike Lazaridis told a packed keynote session at the conference on Tuesday. Though the company gave no details about future QNX-based phones or a new version of the tablet, nor a commercial release date for an updated PlayBook OS that it introduced as a beta, attendees were happy to see a firm technology plan.
The BBX OS will be the foundation of the company's software platforms for the future, along with BlackBerry Cloud Services. Developers will be able to choose RIM's native SDK and open-source tools, or the HTML5 Web standard and RIM's WebWorks, to build apps on top of that foundation. Read more...
VMware and Nvidia will work together to implement the graphics company Quadro's Virtual Graphics platform on VMware's View virtual desktop platform in order to allow more users to ditch the traditional workstation.
The two companies announced the partnership at VMworld Europe in Copenhagen on Wednesday. A key part of VMware's strategy for servers and desktops is to evolve its platforms and tools to allow more users to virtualize more applications.
The work with Nvidia is focused on the latter. Since the advent of server-based computing, handling graphics-intensive tasks has always been a challenge, but performance has gradually improved. Read more...
Microsoft CEO Steve Ballmer feels intensely fortunate that his company's US$44 billion bid for Yahoo back in 2008 never materialized.
"Sometimes you're lucky," he said with a smile at Web 2.0 Summit, responding to a question from conference co-chair John Battelle.
Careful not to offend his search market partner, Ballmer put his comment in context, saying that any CEO would feel grateful for not making a major acquisition in the months prior to the global financial collapse that started in the second half of 2008.
"We would have been closing [the Yahoo deal right after] Lehman Brothers," Ballmer said, referring to the historical collapse of one of the largest financial institutions in the U.S. Microsoft made its offer for Yahoo in early 2008 and withdrew it several months later. Read more...
In Gartner's list of the top 10 trends in IT infrastructure and operations are multiple threats and opportunities for data center operations.
Among the threats is the exodus of baby boomers and the emergence of a younger generation that's been less loyal to corporate employers and are more likely to move to another job.
Designing a job structure that ensures IT skills and corporate knowledge can survive the workforce transition is but one important challenge for companies, according to David Cappuccio, a Gartner analyst.
Gartner's Top 10 list of IT infrastructure and operations trends, presented today at the research firm's annual Gartner Symposium/ITxpo here, follows:
One: Virtualization continues to expand in the enterprise from servers to desktops. "You do not do desktop virtualization to save money, because you're not going to," Cappuccio said. "You are going to spend more money on your infrastructure," in the form of larger servers, VM licenses, while also continuing to pay for desktop licenses. "But what you gain is total control of the environment." Read more...
A Massachusetts congressman has asked Amazon.com to spell out whether and how its upcoming Silk browser will collect information from users when the retail giant launches its Kindle tablet next month.
U.S. Rep. Ed Markey (D-Mass.), the co-chairman of a congressional caucus focused on consumer privacy, last week asked Amazon CEO Jeff Bezos to answer four questions about Silk and data collection.
"Consumers may buy the new Kindle Fire to read 1984, but they may not realize that the tablet's 'Big Browser' may be watching their every keystroke when they are online," said Markey in a press release last Friday.
Markey cited a story in the New York Times earlier this month that stated Silk "may give Amazon unique insight into the Web clicks, buying patterns and media habits of Fire users." Read more...
What would it look if you didn't have to carry around a phone, tablet or other touchscreen gadget to tend to your email and other on-the-go computing needs?
A team at Microsoft Research and Carnegie Mellon University have an idea. The researchers have unveiled a project in the works that uses a Kinect-like camera to transform any surface into a touchscreen.
And I do mean any surface — a piece of paper, a wall, a table, your hand, your arm ...
The proof-of-concept prototype — called OmniTouch — is a wearable camera/projection system that "allows the wearer to use their hands, arms and legs as graphical, interactive surfaces," according to a write up at the Microsoft Research website. (Msnbc.com is a joint venture of Microsoft and NBCUniversal.)
The OmniTouch prototype my be rather large and bulky - not to mention downright goofy looking - at this stage, but researchers say that miniturizing it would not be difficult.
"Today's mobile computers provide omnipresent access to information ... It is undeniable that they have forever changed the way we work, play and interact," the team writes in the OmniTouch research paper here. "However, mobile interaction is far from solved. Diminutive screens and buttons mar the user experience, and otherwise prevent us from realizing their full potential." Read more...
Without any explanation Google has suspended the FrostWire file-sharing application from the Android market. The timing of the removal is both remarkable and unfortunate. Google's decision follows the news that FrostWire had settled its dispute with the Federal Trade Commission (FTC) over privacy concerns.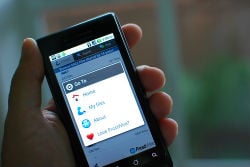 With more than a million installs FrostWire is one of the most popular file-sharing applications on the Android platform. But despite this success Google has decided to pull the app from the Android market place.
FrostWire's Angel Leon tells TorrentFreak that his company was not informed why FrostWire was suspended, but the first thought is that it has something to do with the recent settlement his company reached with the FTC.
Just before the weekend several news outlets reported that FrostWire and the FTC had settled their court case over privacy concerns. The government agency, which aims to protect the rights of consumers, alleged that FrostWire was disregarding users' privacy by sharing files by default. Read more...
The Samsung Unpacked: Google Episode, which was originally supposed to take place during CTIA in San Diego last week, took place last night in Hong Kong instead. The purpose of this event was to unveil the latest collaboration between Samsung and Google, due to be the next in the line of Google's Nexus phones.
These phones have historically lead the charge with a new version of the Android operating system, and last night was no different. After what felt like months of speculation, rumors, and leaks, the Samsung Galaxy Nexus has finally been announced. Coupled with an unveil of the next iteration of Android, dubbed Ice Cream Sandwich, Google and Samsung took some time to really show off the next of the "Google Experience" Android phone.
In this post we'll look at the Galaxy Nexus hardware, with another post later today covering Android 4.0 specifically. Read more...