The next major upgrade to the JavaScript platform, tentatively named ECMAScript 6, is set to feature modularization along with other improvements aimed at providing developers with more convenience and security.
Detailed this week in a presentation at the HTML5 Dev Conf event in San Francisco, the ECMAScript upgrade is being eyed for a 2013 release, said presenter David Herman, a senior researcher at Mozilla Research who has participated in the development of the specification at ECMA International. Focusing on JavaScript at an HTML5 technical conference makes perfect sense,  Herman explained. "[The two] are pretty much impossible to separate. HTML5 is really about the new APIs and capabilities of the Web platform and JavaScript is the language of the Web platform, so you can't use HTML5 without JavaScript and JavaScript is useless without the Web APIs, so the two need each other." Read more...
Firefox developers searching for a way to protect users against a new attack that decrypts sensitive web traffic are seriously considering an update that stops the open-source browser from working with Oracle's Java software framework.
The move, which would prevent Firefox from working with scores of popular websites and crucial enterprise tools, is one way to thwart a recently unveiled attack that decrypts traffic protected by SSL, the cryptographic protocol that millions of websites use to safeguard social security numbers and other sensitive data. In a demonstration last Friday, it took less than two minutes for researchers Thai Duong and Juliano Rizzo to wield the exploit to recover an encrypted authentication cookie used to access a PayPal user account. Read more...
The Metro GUI is the most visible representation of Microsoft's coming operating system. While the release of the tentatively named Windows 8 is still a year away, the company has not been shy about putting the multicolor tiled interface front and center.
Windows 8's security improvements will be much less visible, and that's just the way Microsoft wants it. The company has added a number of protection features to Windows 8 to better protect the system, all the while making the security less intrusive by limiting the number of notifications a user may receive.
For example, the company's SmartScreen technology for detecting potentially malicious sites -- introduced with Internet Explorer 8 -- will be built right into the OS to allow any file downloaded to a Windows 8 computer to be checked out by the system, yet the protection should not alert the average user more than twice a year, Microsoft says. Read more...
The White House this month began allowing people to create petitions on its website, and an early favorite asks the president to "direct the patent office to cease issuing software patents."
The petition has more than 12,000 signatures, which puts it among the top 10 petitions on the White House website.
The leading petition, at the moment, concerns legalizing marijuana, with more than 41,000 signatures.
The White House has set up a relatively simple process for people to create or sign a petition. It asks for a name and email address, and then verifies the email. Read more...
Since its unveiling in January 2005, the Mac Mini has been the cheapest Mac that Apple sells, making it the least expensive way to get hardware that natively runs OS X. In the past, this usually meant settling for older components -- especially compared to the pricier iMac and MacBook Pro lines. Although Apple has updated the Mini's look several times since its debut -- most recently in 2010 -- the internal hardware often received only minor improvements.
That changed in July, when the newest Mini received significant upgrades -- including some serious speed enhancements -- as well as an interesting subtraction or two, one of which might be a deal-breaker for some potential buyers. Read more...
Amazon is taking on the untouchable iPad with a touch-screen tablet of its own.
The company on Wednesday introduced its entry in the rapidly expanding market for handheld computers — a device called Kindle Fire that connects to the Web, streams movies and TV, displays e-books and supports thousands of apps.
It's half the size of an iPad and will be less than half the price when it goes on sale Nov. 15. Amazon is offering the Kindle Fire for $199. The bare-bones iPad sells for $499, the most expensive for $829.
Of course, competing with the iPad won't be as easy as swiping a finger. Read more...
Are you a battle-hardened "Battlefield" player? Do you plan to master "Battlefield 3" within days ... nay hours ... of its launch?
Then your time is now, my friend.
Electronic Arts, DICE and Virgin Gaming have announced the Battlefield 3 Worldwide Conquest Tournament — a tournament in which the best of the best "Battlefield 3" players (or at least those who play the game on an Xbox 360 or PS3) will compete to win a rather enormous prize of $1.6 million.
The organizers say this will be the biggest console gaming competition in history — that's right, this one is not for the many "Battlefield" PC gamers out there (please, do not shoot the messenger). Read more...
Chinese police in Shanghai have arrested five people for making and selling fake versions of Apple Inc's iPhone, a local newspaper reported on Thursday.
Police said those arrested were part of an organized gang that bought components for the phones from Guangdong in southern China and assembled them in rented apartments in Shanghai, the Shanghai Daily said.
About 200 fake iPhones were found during the crackdown. Read more...
As Buzzfeed's guide to "Things that Mark Zuckerberg has Slaughtered So Far" hasn't been updated since May, this photo may no longer be accurate.
By Helen A.S. Popkin
With three months left on Mark Zuckerberg's latest annual challenge — to eat only meat that he kills — word in the Valley has it that the Facebook CEO is no longer content slaughtering chickens, pigs and goats. Zuckerberg has a hunting license, according to insiders. What's more, he's used it to take out a bison (which he most likely ate).
Comments — or even confirmation — of the latest in Zuck's blood lust are not to be had, however. It seems he and his media handlers learned an important lesson last summer after Zuckerberg emailed Fortune a detailed account of his latest personal challenge: Nothing ingratiates 20-something billionaires to the masses like self-righteous bloviating about one's new-found dietary practices ... and animal slaughter! (Seriously, nothing.) Read more...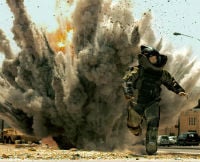 Last month it became clear that having developed their pay-up-or-else file-sharing settlement scheme in the United States, the makers of the Hurt Locker had moved north. In their new phase of targeting Canadian IP addresses for cash settlements, Voltage Pictures have included an interesting target in their latest batch – the Montreal Canadiens hockey team.
Since last year, Voltage Pictures, the makers of Hurt Locker, have been working with the Dunlap, Grubb and Weaver law firm (better known as the U.S. Copyright Group) to target Internet users who allegedly shared their Oscar-winning movie online.
Give us thousands of dollars in settlement, they say, and we won't ruin your life with an expensive lawsuit. Read more...