The Document Foundation, which produces the LibreOffice open source office-software suite, is celebrating the first anniversary of the code's release.
LibreOffice was born out of disgruntlement at the way Oracle handled the OpenOffice project after it took ownership of Sun. This time last year, key open source developers left the OpenOffice team and set up their own software group, run by consensus decisions and supported by volunteers.
Although the team asked Oracle if it wanted to take part in the new project, Larry Ellison's crew handled rejection badly and ended up donating the entire code base of OpenOffice to Apache Software Foundation. IBM is still developing the OpenOffice code, but progress has been slow – and not helped by more defections to The Document Foundation. Read more...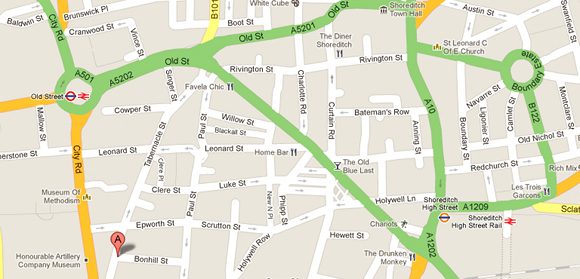 Google is set to plonk itself on the doorstep of the Silicon Roundabout next year, after the company signed a lease for a seven-floor building intended to be used as a base for start-ups and coders.
The new centre, at 4-5 Bonhill Street, will undergo a full makeover prior to the Chocolate Factory setting up shop in Shoreditch.
According to an online ad offering the property for business rental purposes, the 25,392 sq ft building has "comfort cooling", under-floor trunking, a kitchenette, 24-hour access, a suspended ceiling and a passenger lift.
Annual rent is £19.50 per sq ft per annum, while rates are £8.30 per sq ft per annum. Read more...
Google has acquired land in Hong Kong, Taiwan and Singapore to build data centers in these three locations, it said Wednesday.
The data centers will be the "first Google proprietary data centers in Asia," and will be fully owned and operated by the company, said Taj Meadows, the company's policy communications manager for Asia Pacific.
More people are coming online every day in Asia than in any other part of the world, so locating data centers there is an important next stage of Google's investment in the region, the company said Local data centers will help the company provide faster and more reliable access to Google's services, it added.
There is a large surge in Internet use in Asia, particularly for consumer applications, said Jun Fwu Chin, research manager for virtualization and data center at IDC Malaysia. Read more...
With its new Sparc T4 processor, Oracle is working to pull away from its Sun Microsystems legacy, and adopt its own roadmap for this processor family.
When Oracle acquired Sun in early 2010, it was buying a distressed company that had just abandoned a five-year effort to develop a 16-core Sparc chip, code-named the Rock, as the broader market was increasingly turning to lower cost x86 systems..
The Rock chip was first due for completion in 2008.
By the time Sun abandoned the Rock project, the future of Sparc, and by extension Sun's Solaris operating system, was fuzzy.
After Oracle took over Sun, revenue from Solaris declined -- by 3.2% in through 2010 -- "as end users were skeptical about Oracle's commitment to the Solaris platform," reported Gartner at that time. Read more...
Microsoft today said it will issue a Windows security update to plug a long-known hole in the protocol that secures websites.
Although the flaw in SSL (secure socket layer) 3.0 and TLS (transport layer security) 1.0, the follow-on Web encryption protocol to SSL, has been known for about a decade, a practical exploit only surfaced last week when a pair of researchers demonstrated what they called BEAST, for "Browser Exploit Against SSL/TLS," a hacking tool that attacks browsers and decrypts cookies, potentially giving attackers access to encrypted website log-on credentials.
Opera Software's flagship desktop browser relies on TLS 1.1, which is not vulnerable to such attacks, but others have either not made that move or as in Microsoft's case, have left TLS 1.1 support disabled by default.
In a security advisory issued Monday, Microsoft said it is working on an update for Windows, but did not say what it would patch or modify, or when it would deliver the fix. Read more...
Facebook has an internal tool for developing mobile applications primarily using HTML5, which eventually should allow it to bring every feature of its Web platform onto mobile devices.
Facebook used the tool, internally called Faceweb, to introduce continuous News Feed updates to mobile devices last week, said Erick Tseng, head of mobile products at Facebook. The company hopes to have conjoined launches of feature updates on both mobile applications and the Web, he said at the Mobilize conference in San Francisco.
"The reason we're so excited about Faceweb is because by using HTML5 instead of all native development ... it allows us to actually keep pace with desktop features," Tseng said. HTML5 is a standard Web development language that can bring many capabilities of native apps, including offline operation, to the Web.
Facebook considers itself not a social network but a platform that can be pervasive throughout a user's mobile experience, Tseng said. Device makers including HTC and Sony Ericsson have already used Facebook APIs (application programming interfaces) to integrate Facebook functions deep in Android phones. This lets users plug into the "social graph" of the platform without even consciously going into a Facebook app or logging in. "That's a platform," Tseng said. Read more...
Amazon.com Inc is expected to launch its long-awaited tablet computer on Wednesday, sporting a low-enough price to give Apple Inc's iPad some serious competition for the first time.
At a news conference Wednesday morning in New York, Amazon will likely unveil a seven-inch tablet that will let users read e-books, download digital music and video games and stream movies and TV shows.
Analysts expect the tablet to be priced around $250, roughly half the price of Apple's dominant iPad, which starts at $499. Read more...
Something strange just happened. While dropping my daughter off at school, I spotted some other moms huddled together talking in hushed tones. Breathless chatter to recap the Glee season premier? Oh no, they were talking about the news that Apple is expected to unveil the next iPhone on October 4. A similar scene played right after that while I was getting coffee and then again this afternoon as I waited to check out at the grocery store.
Now, I know I'm excited about a new iPhone release because I cover (and covet) lifestyle tech. But mainstream moms? When did a new iPhone release become that one thing so many women are talking about right now? Is this the new Prada handbag, season premiere of Dancing With the Stars or Nordstrom Half Yearly Sale? Read more...
As an elementary school teacher, I'm always asked the same question, "What can I do at home?" There's a wealth of educational sites that can help you build your child's reading and math skills in fun and motivational ways, but the following are my favorite resources.
Reading sites
Leading to Reading
Get your pre-reader moving, singing and on the road to becoming a fluent reader with Leading to Reading. There are two levels of this site: "Babies and Toddlers" and "Preschoolers." The first section contains music, read alouds, lullabies (in different languages), games, and videos. When your back is aching from "Head, Shoulders, Knees and Toes," turn on one of the videos, referred to as "Finger Plays," which uses popular rhymes and hand gestures to teach coordination. "Preschoolers" offers activities that are a step up from "Babies and Toddlers", as it focuses more on letter recognition and reading comprehension. Along with sing-a-longs and games, there are books and an exploration section that features nonfiction videos, fun facts, and videos about animals. The "Grown-ups" tab contains articles and ideas to get your child reading, author interviews, and featured books. Also available and free are downloadable coloring pages that reinforce the alphabet. Besides having stories and lullabies in different languages, this entire site can be translated into Spanish. Read more...
After being threatened with a lawsuit by the Hollywood-funded anti-piracy outfit BREIN, a Dutch payment provider has handed over the personal details of a torrent site owner. The anti-piracy group is targeting payment providers in order to reveal the identity of site owners, as the information owners give to hosting companies is often false.
Hundreds of torrent sites, private BitTorrent trackers in particular, allow their users to donate money in exchange for extra features. In part, the site owners use this money to keep their sites afloat, but if it's up to anti-piracy watchdog BREIN, this type of funding will become their downfall.
Earlier this month BREIN announced that it would query payment providers such as PayPal for the personal information of account holders connected to 'illegal' sites. BREIN threatened to take these payment providers to court if they refused to cooperate, and it now appears that they were serious. Read more...