If the PC is dying, as one of its inventors recently asserted, it really only has itself to blame.
The Little Britain catchphrase "Computer says no" resonated with a nation of frustrated computer owners for a reason - it was recognition that too often it is the PC that calls the shots, not its user.
Its demise has been a long time coming - and it's the result of the refusal of hardware and software designers to make a PC that caters to the needs of users. Read more...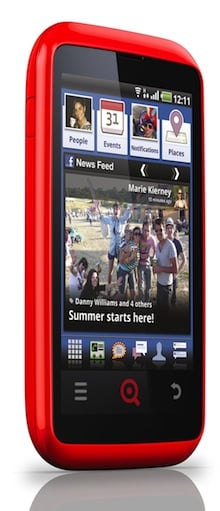 Google's proposed acquisition of Motorola has obliged one operator to look more closely at Windows Mobile. So says Inq boss Frank Meehan, who runs the Hutchison-owned handset company. He has a very interesting reason, which might surprise some of you.
Inq puts its own UI on Android, as seen here
with the Cloud Touch
Meehan says he thinks that the software cost of Windows Phone may now be lower than that of an Android phone. Android is nominally free: you download it and compile it. But the sticker price of the OS doesn't reflect the final software cost. A manufacturer needs to stump up for the royalties covering the wireless stacks. They may also be hit by other, unexpected royalty demands. And that makes Android a lot more uncertain than a supplier who can guarantee no nasty surprises, or insure against them. Read more...
Another Microsoft me-too Web 2.0 project looks to be headed for the chop with Skype's proposed purchase of a mobile messaging start-up.
Skype is buying GroupMe, another app masquerading as a business, that has 20 employees and $10.6m in funding. The service lets you marshal your contacts into groups.
Microsoft itself is in the process of buying the loss-making Skype for a remarkable $8.5bn. This is remarkable in any world but more so when Microsoft could have got away with paying "just" $7bn.
Using GroupMe you can set up private chats, share your location and photos, and also conduct conference calls using boring old voice using its service.
GroupMe works on iPhone, Android, BlackBerry and Windows Phone. Read more...
The rise of cloud computing has led to a strong push from IT leaders at many major companies to develop standards that such address issues as security and data portability in the cloud.
But the early push for standards is beginning to resemble a NASCAR race -- everyone is driving on the same track but sitting in different cars.
Multiple organizations are in pursuit of the same checkered flag: a set of standards that will facilitate the adoption of cloud computing technologies.
The latest organization to join the growing list of standards groups is the IBM-backed Cloud Standards Customer Council, which announced its steering committee last month. Read more...
U.S. and Russian antivirus vendors took shots at each other as they quarreled over a recent report of a cyber campaign that allegedly infiltrated scores of Western governments, organizations and corporations.
The report, released earlier this month by McAfee, claimed that a half-decade-long hacker operation compromised more than 70 U.S. and foreign government agencies, defense contractors and international organizations to plant malware that in some cases hid on networks for years.
McAfee's report was picked up by numerous news outlets, and even caught the eye of Congress. On Aug. 10, Rep. Mary Bono Mack (R-Calif.), the chairman of the House subcommittee on commerce, manufacturing and trade, sent a letter (download PDF) to McAfee asking for more information on the intrusions. Read more...
Verizon Wireless on Monday named 25 more localities, mainly in Illinois and other Midwestern states, that will get its 4G LTE service on Sept. 15.
The carrier could be racing to set up network support for the coming iPhone 5, which is rumored to support 4G LTE, according to some bloggers. Verizon would not comment on that speculation, however, referring questions about the iPhone to Apple instead.
"We're aggressive in the deployment of 4G LTE because we have a huge first-to-market advantage -- more than a year -- over what AT&T says it's going to be building eventually," said the Verizon spokesman Jeffrey Nelson, in an email.
"Our customers are using LTE big time," he added. "They love the speed and huge latency improvements. LTE is extremely efficient in carrying data." Read more...
Apple's next iPad will be faster and more power-efficient thanks to its new, quad-core A6 processor, but the new tablet may not be ready to ship until next June, an industry analyst said Monday.
The A6 will succeed the dual-core A5 processor used in Apple's iPad 2, said Linley Gwennap, founder and principal analyst at The Linley Group. The A6 will likely be made by chip foundry company Taiwan Semiconductor Manufacturing Co. (TSMC), Gwennap said, citing multiple sources. The A5 is manufactured by Samsung, and Apple is embroiled in a legal dispute with that company. Read more...
Well, I did it: I took the plunge and bought one of those dirt cheap HP TouchPads. As a happy owner of a Motorola Xoom, you wouldn't think I'd be in the market for a new tablet -- especially one that's just been given its last rites -- but over the weekend, like thousands of other technophiles, I found myself shelling out a hundred bucks for a discontinued and critically panned gadget.
Crazy? Maybe. But I had my reasons.
First, though, in case you've been living in a cave the last few days (or, you know, just somewhere without Internet access), let me catch you up: HP recently announced it would stop making its TouchPad tablet. Then on Saturday, the shockwave hit: The company launched the sale of the century to get rid of its remaining TouchPad inventory, with the normally $499 32GB model selling for $149 and the normally $399 16GB version priced at just 99 bones. Read more...