U.S. consumers are among the world's most voracious consumers of mobile data, motivated by the country's homegrown technology industry, according to analyst Chetan Sharma.
The average U.S. mobile data user will be consuming 675MB of data per month by the end of this year, said Sharma, founder of Chetan Sharma Consulting. That forecast average will be second only to that of Sweden, which he estimated at 760MB per month. The figures were part of the consulting firm's second-quarter report, released on Thursday.
The U.S. has already surpassed the Philippines to achieve the highest use of SMS (Short Message Service). U.S. consumers sent and received an average of 664 SMS messages per user, per month, in the second quarter. The Philippines, long the world's leader in SMS, now has an average of 560 text messages per month. Read more...
A massive survey of smartphone users purports to show that iPhone users are sushi-eating leaders, while anyone touting an Android handset prefers steak and following others.
The survey comes from Hunch.com, and is compiled from the responses of 15,000 people who volunteered to answer questions on the company's website, so it is worth noting that it is the iPhone owners themselves who think they are extrovert leaders, despite their unfailing ability to follow the messianic Steve. Read more...
We at the El Reg Special Projects Bureau are delighted to welcome the OpenPilot initiative aboard our Low Orbit Helium Assisted Navigator (LOHAN) programme.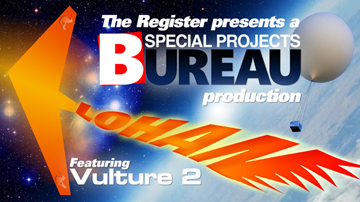 The chaps from OpenPilot got in touch to say they reckoned their CopterControl board (pictured below) could do the job of guiding the Vulture 2 aircraft back to terra firma following its high-altitude, rocket-powered departure from the LOHAN launch platform.
In case you're not up to speed on just how the launch bit might work, there are some initial reader thoughts right here.
Once it's burnt its rocket propellant, the Vulture 2 will return to Earth under autopilot control. There are a few Unmanned Aerial Vehicle (UAV) systems out there, but OpenPilot's open source credentials tickled our inner geek. Read more...
Attempts by T-Mobile to speed up mobile data connections are breaking websites.
The bug intermittently affects mobile device users and PC users using tethered connections. It is caused by "optimisations" to the sites' Javascript code made on the fly, in attempt to optimise the amount of data received. Instead of stripping out comments, the optimisation – or more precisely, "pessimisation" – also strips out strings in the code itself.
MySociety first publicised the issue last week.
A developer told us the bug struck while his team was giving a demo to a potential investor. The team subsequently spent two days tracking down what had caused the issue.
"T-Mobile have managed to strip out bits of JavaScript code as well as comments. The jQuery library suffers, too. Worse than that, the script files are cached and won't get replaced when the user moves off 3G and back on to a decent ISP: in effect, T-Mobile has broken websites permanently," said the dev. Read more...
Hewlett-Packard is looking to dump -- er, spin out its PC business, and confirms that it has bought database and analytics vendor Autonomy for $10.3 billion. Plus, it is discontinuing its WebOS-based tablets and smartphones. Prepare for a major shift in the tech business and an acceleration of the "consumerized IT" trend in which business users increasingly drive technology adoption and usage -- and traditional IT moves further and further into the back office.
On the face of it, such moves would mirror what IBM did in 2004 when it sold its PC business to Lenovo to concentrate on its software and services business. That shocked the industry, and IBM suffered a while as it made the transition to a vendor focused on the back end of business, not people's desktops. But the strategy proved very effective, as PCs got more and more commoditized and letting go of them allowed IBM to venture where the profits were. Read more...
Developers who make apps for Android have a lot more to worry about than just building great software.
While Google's Android is offered under the Apache and GPL licenses, the mobile operating system has components referencing 19 open source licenses overall, Black Duck Software executive Peter Vescuso told an audience at LinuxCon in Vancouver.
Even single projects used within Android, like Bionic or WebKit, can have more than a dozen licenses attached to them, some of which may not be certified by the Open Source Initiative. Despite what some people might believe, the obligations spelled out in these open source licenses do not apply to Google alone. Whether you're a device manufacturer or independent developer, compliance challenges must be met. Read more...
SSL, the encryption scheme that protects virtually all secure online transaction, requires that users rely on trusted third parties, but what if they can't be trusted?
Well, it turns out they can't be, as demonstrated earlier this year by the breach linked to trusted third party Comodo, but researchers are fashioning new trust models for SSL that they say are much less susceptible to being compromised.
One proposal, called Perspectives, is being vetted by a team at Carnegie Mellon University, and a second, called Convergence, is also being run through its paces by Moxie Marlinspike, a fellow at the Institute for Disruptive Studies, a lab devoted to privacy, anonymity and computer security. Read more...
Microsoft has begun talking about Windows 8 in general terms, reprising a blog-based strategy that it used in the year-long run-up to Windows 7.
Microsoft kicked off the "Building Windows 8" blog on Monday, almost exactly three years after the debut of a similar blog, "Engineering Windows 7," that the company used to beat the drum.
Both blogs were launched by Steven Sinofsky, the president of Microsoft's Windows and Windows Live division.
Yesterday, Sinofsky essentially confirmed that Windows 8 will support an app store when he listed it as the title of one of 35 teams working on the operating system. Read more...
After half a day of frenzied speculation from the IT industry, Hewlett-Packard has confirmed that it is acquiring information management software vendor Autonomy, for $42.11 per share, or about $10.3 billion.
The acquisition is expected to close by the end of 2011.
Founded in 1996, Autonomy offers a broad line of information management software, including enterprise search, content management, data analysis and governance software. It serves more than 25,000 organizations, including BAE Systems, Boeing, Citigroup, Coca Cola, FedEx, Ford, the New York Stock Exchange, Shell, Tesco, T-Mobile, the U.S. Department of Homeland Security and the U.S. Securities and Exchange Commission. Read more...
The acknowledgement Thursday by Hewlett-Packard (HP), the world's largest PC maker, that it is considering spinning off its massive PC manufacturing business means "they see the writing on the wall," as one analyst put it.
In a flurry of announcements, HP also said it is killing off its webOS devices -- specifically the TouchPad and its webOS phones -- and planning to purchase analytics software vendor Autonomy for $10 billion in cash.
News that HP may get out of the PC business wasn't a surprise to some analysts, especially given the decreasing focus by consumers, and even enterprises, on desktops and laptops. The quick rise of tablets, particularly Apple's iPad, is not good for companies that have invested billions of dollars in building and selling PCs. Read more...