Apple' iOS has over 425,000 apps, with over 15 billion downloaded, according to Apple. Google Android? It has 250,000-plus, but that number is growing at a faster pace than iOS. According to research by Adobe and Forrester, however, a rising number of developers may decide to forego the arms apps race entirely, preferring instead to optimize their mobile web presences.
What you build, it turns out, depends on what sort of business you run. Since a minority (38 per cent) of developers have an established mobile strategy, according to Forrester's survey results, the war between apps and the web is just beginning.
As Adobe's survey of 1,200 North American mobile users suggests, some activities lend themselves to the mobile web-browser model more readily than others. The majority of shoppers (66 per cent), for example, prefer to use their browser when buying goods and services on their mobile device. An even higher percentage (79 per cent) use the mobile web for product research prior to purchasing.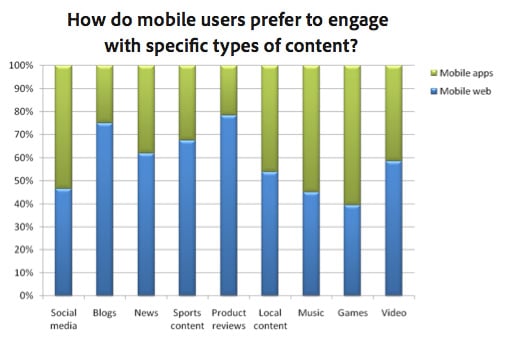 Games and social networking? Apps. Product research and blogs? Browsers. (source: Adobe)
The numbers flip-flop, however, when one considers social media or games. A slim majority of survey respondents (52 per cent) prefer a dedicated app to check Facebook and other social networking services, and 60 percent look to apps to fulfill their gaming needs. Read more...
A growing number of ERP (enterprise resource planning) software customers are considering a jump to third-party software support providers, according to new data from analyst firm Constellation Research.
Some 57 percent of 244 respondents to a survey conducted in the second quarter indicated interest in third-party support, compared to 42 percent in a study conducted last year and less than 20 percent in one completed in 2009, said Constellation Research CEO Ray Wang during a webcast sponsored and hosted by Rimini Street, which offers support for Oracle and SAP applications.
More than 90 percent of respondents interested in making the switch cited cost pressures as a reason. Another 80 percent expressed dissatisfaction with the value they are getting from vendor-provided support. Read more...
Google's free-to-use operating system is increasingly imposing costs on handset developers.
That's because Android vendors have of late become targets of both Microsoft and Apple, which just happen to be the companies with the largest market caps on the Nasdaq stock exchange and have plenty of money to spend on intellectual property lawsuits.
The most recent development in this saga came last week when a judge at the International Trade Commission ruled that HTC's Android-based smartphones had key features that infringed upon two Apple patents. If the ruling is made final later this year, it means that HTC could be barred from importing its Android phones into the U.S. Read more...
Intel's acquisition of Ethernet chip vendor Fulcrum Microsystems is just the latest step in integrating the components within data centers to help them work smoothly as a single virtual system.
Fulcrum makes silicon for data-center switches with 10-Gigabit and 40-Gigabit Ethernet ports. Its chips are known for low latency. The small, privately held company's technology will give Intel a place inside the switches atop server racks that link servers to each other and to the overall network.
Intel wants to pair Fulcrum's chips with its own silicon used in Ethernet adapters and controllers so they can exchange new types of information about security, quality of service, management and other variables. Read more...
The FBI said this afternoon that it had arrested a total of fourteen individuals thought to belong to the Anonymous hacking group for their alleged participation in a series of distributed denial-of-service attacks (DDoS) against PayPal last year.
The defendants, all of whom are in their 20s or early 30s, were arrested on no-bail arrest warrants in a series of raids in Alabama, California, Colorado, the District of Columbia, Massachusetts and five other states. All of them were charged in an indictment that was unsealed in federal court in San Jose today. Read more...
Apple will launch its Lion operating system tomorrow, the company's chief financial officer said Tuesday.
Rumors floated nearly constantly during July that Mac OS X 10.7, aka Lion, would debut in the next few days or at most, the following week.
Those rumors are now moot. Read more...
Yahoo's total revenue took a steep dive in the second quarter as it struggled in display advertising, a core market where it has historically been a leader. The company managed to increase its profit by 11 percent, however.
Total revenue for the three months ending June 30 declined 23 percent year on year to $1.22 billion, Yahoo announced Tuesday. Subtracting the advertising commissions and fees it pays to partners, net revenue came in at $1.07 billion, down 5 percent from 2010's second quarter and below the $1.11 billion consensus estimate from analysts polled by Thomson Reuters. Read more...
HP with its Application Lifecycle Intelligence product introduced Tuesday offers visibility into what is happening in heterogenous environments across the application development lifecycle, according to the company.
The product turns disparate data into actionable intelligence, HP said. Combined with the HP ALM 11 platform, HP Application Lifecycle Intelligence offers a real-time view into changes made to source code while enabling developers to work with their tools of choice. The tool can integrate "to any environment, any source control management tool bringing in changes and [creates] that traceability and links between source control changes to requirements to tests or any entity across the application lifecycle," said HP's Raffi Margaliot, senior director of products, at an HP software launch event in Silicon Valley. Read more...
Apple reported solid earnings for its fiscal third quarter, with strong iPad and iPhone shipments boosting profit and revenue, the company said Tuesday.
Apple sold 9.25 million iPads in the quarter, a 183 percent increase from the same quarter last year. It sold 20.34 million iPhones, a 142 percent increase. IPod sales were down 20 percent to 7.54 million units, however.
The iPad 2 went on sale in March to big lines in the U.S., and while initial stocks dried up quickly, demand remained strong. Read more...
The move to almost fully virtualized computing environments is driving a fresh approach to security in the enterprise, according to information technology security managers applying controls for VMware and Microsoft Hyper-V.
"We're very close to being 100 percent virtualized," says Gurusimran Khalsa, systems group supervisor in the state of New Mexico's human services department. That organization's servers are based on VMware's vSphere, and a virtual desktop project is being started, too. The agency's 170 server-based VMs (virtual machines) run in its local data center, with a range of Web applications, multi-tiered IT systems, file servers, domain servers, SharePoint, and SQL servers. Read more...