Microsoft has launched its Office 365 suite of software-as-a-service (SaaS) applications as it bids to take on Google Apps, and on the face of it Microsoft's technology could have the edge over Google's.
Office 365 combines Office Web Apps - online versions of Excel, Outlook, PowerPoint and Word - with web-based versions of the Exchange email system, SharePoint collaboration platform and Lync unified communications tech, previously part of the Business Productivity Online Suite (BPOS).
Microsoft's big software-as-a-service push, Office 365, faces competition but not just from GoogleImage: Microsoft
Lync in particular is more comprehensive than Google's offering because it offers more advanced videoconferencing and web meetings. Office 365's Excel and SharePoint applications also appear more sophisticated than Google's versions. Read more...
Research In Motion's board of directors has agreed to form an independent committee to study aspects of the company's management structure, including clarifying the roles of RIM's controversial co-CEOs.
RIM agreed to the review as part of a deal with a shareholder, Northwest & Ethical Investments, that had planned to propose splitting the role of chair and CEO and establishing an independent chair. NEI Investments announced on Thursday it had decided to withdraw its proposal, which would have been submitted for a vote at RIM's annual general meeting on July 12, according to a RIM press release.
RIM is led by longtime co-CEOs Jim Balsillie and Mike Lazaridis, who also are co-chairmen of the company. Lazaridis also holds the title of president. Some observers have questioned this management structure in the wake of recent disappointing financial performance and late product introductions.
Analysts on a conference call about RIM's devastating first-quarter results asked whether the dual leadership was best for efficient decision-making, but Balsillie and Lazaridis firmly defended their roles. Read more...
Earlier this year, New York-based law firm Proskauer completed a massive technology redesign that would make Silicon Valley tech companies gush with envy. At the heart of the redesign was the Apple iPad 2. "I'm pretty sure we were the first, if not only major law firm, to do it," says COO Arthur Gurwitz. "I think it was important to be first with the iPad. I call it brand enhancement."
But behind the "brand enhancement" and despite the elegant simplicity of the iPad, Proskauer's IS department was faced with a great many difficult choices. In other words, iPad enterprise adoption is anything but easy.
What does it take to fell an online giant?
That has to be what Google has been asking itself about social networking rival Facebook.
On Tuesday, months of speculation about whether Google has been working on its own social network were put to rest when the company revealed the Google+ project. The new service, which mirrors Facebook to a good extent, enables users to post status updates, upload pictures and share links -- just like people do on Facebook. It could also appeal to enterprise users.
The big question is whether Google can sing a sweet enough siren's song to lure users, who tend to be creatures of habit, away from the world's largest social network. Read more...
It might not be as dramatic as a last-ditch battle against relentless killer robots, but it might be just as decisive for humanity - could we be only five minutes of idle chit-chat away from domination by machines?
For decades, computers have been chipping away at the range of skills that can only be mastered by humans. From performing calculations to beating grand masters at chess, composing poetry and music, talents previously considered 'humans only' have been replicated by computers.
Indeed, so great is the list of machines' achievements that only the biggest challenge remains to them: can a computer really be said to think?
It is this question that the Turing Test attempts to answer - with the unlikely tool of small talk.
The test was first proposed by mathematician Alan Turing in the 1950 paper Computing Machinery and Intelligence. The test, which he describes as "the imitation game", was his attempt to set criteria for judging whether a computer really can think.
In the most modern version of the test, judges talk via a computer to two unseen correspondents - one a human, one a piece of software - and then have to decide which is which. Read more...
Oracle's roadmap for Javas 7 and 8 shows it recognizes the world is pulling away and leaving Java with last-century concepts and ideals. Java 7 is meant to set the foundation for a cloud-friendly platform, but the real cloud-ready features won't make an appearance until Java 8 in 2013 at the earliest.
While Larry and company can't be blamed for the years of stagnation suffered by both the platform and language under Sun Microsystems, the problem faced isn't that Java lacks the technology to work nicely in the cloud: the problem is, as ever, one of perception.
Java is either not "enterprise" enough for cloud computing – apparently lacking the required widgets – or it's too enterprisey and therefore not cool enough to join the likes of Ruby and Python. Read more...
A "minimal but needed update" to ECMAScript, also known as Javascript, has been ratified by standards chiefs who have promised greater consistency between browsers.
ECMA-262 edition 5.1 packs a number of "editorial corrections" and bug fixes that it promised will make ECMA-262 edition "easier" and allow for better interoperability among web applications. It updates edition 5, approved in December 2009 and ratified by the ISO, IEC and ECMA International.
To help further on the interoperability front, ECMA has promised it will also publish – for the first time – a standardized test suite so developers can see just how far implementations of ECMAscript adhere to the official standard. Read more...
The first major update to Apple's Mac operating system in some five years is nearly ready, and what has been removed is as significant as its improvements. Mac OS X 10.7, known informally as Lion, continues the trend of removing "legacy" components and technologies from OS X with a zeal that would leave Microsoft quivering in terror.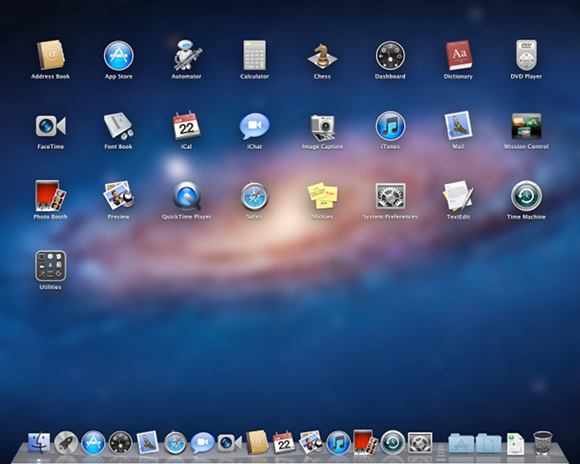 If you're a fondleslab addict and folders are too complicated, there's Launchpad (click to enlarge)
Mac OS X development has slowed markedly since the release of OS X 10.4 – "Tiger" – in 2004. Two years later, 10.5, "Leopard", was the most recent major update. 2008's "Snow Leopard", version 10.6, was as its name suggests a relatively minor release, which mainly just dropped support for PowerPC machines. This means that Lion is OS X's first big overhaul since 2006. Read more...
Nortel Networks has auctioned off its remaining patents and patent applications to a consortium of key technology companies for a cash purchase price of US$4.5 billion.
Google, which offered $900 million for the patents in April, was not among the winning bidders.
Nortel said in a statement late Thursday that a consortium consisting of Apple, EMC, Ericsson, Microsoft, Research In Motion and Sony had emerged as the winning bidder in the multi-day auction. It did not give information on the other bidders.
"We believe the consortium is in the best position to utilize the patents in a manner that will be favorable to the industry long term", Ericsson said. The company said it would contribute $340 million to the transaction which is expected to close in the third quarter. RIM said its portion of the purchase consideration was about $770 million. Read more...
Smart construction and good planning allowed Japan's data centers to escape virtually unharmed from the massive earthquake that rocked the country in March, a Japanese data center executive said Thursday.
Operators there had to grapple with blackouts and shortages of generator fuel and equipment. They have also fought hard to be exempt from nationwide power caps that go into effect Friday. But despite enduring the biggest earthquake in recorded history, none of Japan's data centers were severely damaged or knocked offline by the disaster, the executive said.
"So far there has been no critical damage reported to the Japan Data Center Council," said Atsushi Yamanaka, a general manager with data center operations company IDC Frontier, who gave a talk at the DatacenterDynamics conference in San Francisco about the impact of the quake. Read more...