The government's policy on immigration risks damaging the competitiveness of UK businesses by restricting the flow of skilled technology professionals, business leaders have warned.
Dr Richard Sykes, chair of the Outsourcing Group at tech trade body Intellect, said while the UK is still a net exporter of technology skills, the competitiveness of UK plc is being put at risk by govern
ment policy targeting migration by capping the number of non-EU skilled migrants who can work in the UK.
"We should have an absolute policy for qualified professionals of absolutely open borders," says Dr Richard SykesPhoto: Natasha Lomas/silicon.com
Speaking at a conference on IT skills held at City University's Cass Business School, Sykes said: "How do we maintain that competitiveness unless we keep very open borders to the free movement of the professional?" Read more...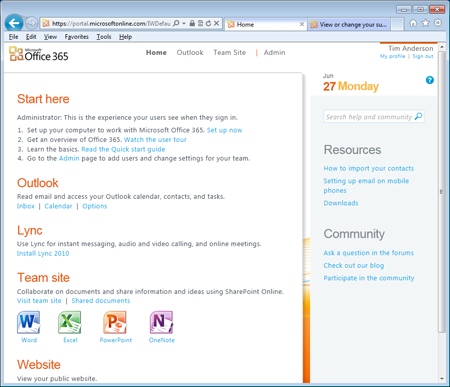 Office 365 has four cloud-hosted components: Exchange, SharePoint, Lync, and Office Web Apps, which you can use to access the other three from a browser. The addition of Dynamics CRM (Customer Relationship Management) is planned. Some editions include a subscription to Microsoft Office Professional Plus – a version of Microsoft's classic Office desktop clients – but whether or not it is included, the great majority of users will need Office installed locally.
Never a company to keep things simple, Microsoft has come up with a range of plans, grouped into educational, small business, and enterprise families. There is also a kiosk plan, for users without a dedicated computer. Prices range from $4.00/£2.60 for a kiosk user with Exchange and SharePoint, to $24.00/£15.75 for an enterprise user including a desktop Office license and Lync Plus for voice communications, though this last must be implemented on-premise.
The Office 365 portal is clean and well designed
Read more...
Microsoft has raided the Walt Disney Corporation to fill a position tasked with flogging Windows 8 to consumers buying PCs and tablets next year.
The company appointed former Disney director of brand strategy Jay Victor as its own director of brand strategy, working in Microsoft's Central Marketing Group (CMG). Victor has been with Microsoft for almost a month.
Victor was with Disney for nearly five and a half years, and on his LinkedIn profile he says he managed brand strategy for family entertainment at "the coolest job in the world". His position included market research, business development, product development, creative, and marketing. Read more...
If you're impressed with the current generation of LTE services, wait until you get a load of LTE Advanced.
Ericsson announced on Tuesday that it had conducted a demonstration of LTE Advanced technology in Sweden that saw speeds peak at just under 1Gbps, which marks a tenfold increase over the peak speeds of current LTE networks.
The company says that the first commercial LTE Advanced services will up and running in 2013.
The current version of LTE is essentially a bridge from 3G technologies such as HSPA and EV-DO Rev. A to the 4G IMT-Advanced technologies that the International Telecommunications Union has said will support average speeds up to 100Mbps. Read more...
Hewlett-Packard is opening two new centers in China, one focused on cloud computing, and the other on research, as the company ramps up to address this large market.
The company opened a new HP Cloud Executive Briefing Center in the Chinese city of Tianjin near Beijing on Tuesday. The center will help customers in "building, enabling and operating" HP cloud products, CEO Leo Apotheker said Wednesday in Beijing.
The company also plans to open a new center for research in enterprise servers, storage, and networking. The center, in Beijing, will open at the end of the year. Read more...
Oracle is building out its array of hardware products with the acquisition of storage vendor Pillar Data Systems, the company announced Wednesday. Terms of the deal, which is expected to close in July, were not disclosed.
Oracle CEO Larry Ellison already has a majority stake in Pillar. The deal was engineered by an independent committee of Oracle board members, according to a statement. Read more...
Email addresses and names of subscribers to DefenseNews, a highly-regarded website that covers national and international military and defense news, were accessed by hackers and presumed stolen, Gannett announced yesterday.
DefenseNews' subscribers include active and retired military personnel, defense contractors and others in both the U.S. and other countries' defense establishments.
"We discovered that the attacker gained unauthorized access to files containing information of some of our users," said Gannett Government Media, an arm of the media chain that publishes not only DefenseNews, but also the Military Times and Federal Times sites, as well as a number of military-specific magazines and journals, ranging from the Army Times to the Intelligence, Surveillance and Reconnaissance Journal. Read more...
More Americans are using e-readers than tablets, according to a Pew Research Institute survey.
The Pew survey of 2,277 adults that finished on May 22 found that 12% of Americans owned an e-reader device in May compared to 8% who owned a tablet like the popular iPad
Also, ownership grew faster for e-readers like the Nook or Kindle than ownership of tablets over the six months between November 2010 and May, the Pew survey found.
The telephone survey found that Hispanic Americans are the fastest-growing ownership group of both e-reader and tablet devices.
E-reader ownership grew from 6% of American adults in November 2010 to 12% in May, Pew said. Read more...
A newly patented Microsoft technology called Legal Intercept that would allow the company to secretly intercept, monitor and record Skype calls is stoking privacy concerns.
Microsoft's patent application for Legal Intercept was filed in 2009, well before the company's $8.5 billion purchase of Skype in May. The patent was granted last week.
From Microsoft's description of the technology in its patent application, Legal Intercept appears similar to tools used by telecommunication companies and equipment makers to comply with government wiretap and surveillance requests. Read more...